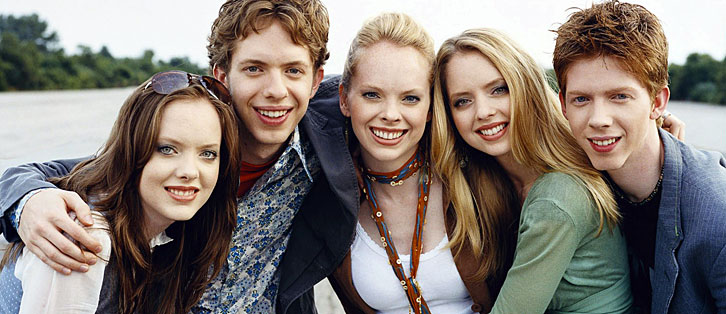 After the debut of their self-titled first album, The 5 Browns are back with No Boundaries, their all-new recording for RCA Red Seal. No Boundaries features the five piano virtuosos in a wide-ranging selection of music both familiar and rare. Highlighting the recording, which showcases the five playing together and in various combinations, are spellbinding transcriptions of Gershwin's Rhapsody in Blue, Stravinsky's The Firebird as well as the new work Simple Gifts/Going Home -- variations on Copland's Shaker hymn Simple Gifts from Appalachian Spring and Dvorak's Going Home theme from his Ninth Symphony.
No Boundaries is being released on CD as well as Dual Disc. The new Dual Disc format combines audio and video content on a two-sided disc and features music videos of The 5 Browns performing three tracks from the album. The videos were shot outdoors in Utah, with the Browns' five black Steinways in dramatic contrast to the snow-white surface of the Bonneville Salt Flats, framed by a beautiful setting of purple mountains in the distance and a pink desert horizon at sunset. No Boundaries will be available in stores April 4, 2006.
The 5 Browns -- Ryan, 20 years old, Melody, 21, Gregory, 23, Deondra, 25 and Desirae, 27 -- were a great, all-American story last year, when the press first learned of their spectacular accomplishments: five attractive and appealing brothers and sisters from Utah who were budding concert pianists studying at the Juilliard School of Music, all at the same time -- a first at the prestigious, century-old school. Their story inspired broadcast appearances on national television and radio and extensive international print coverage.
Guided by their manager Joel Diamond and their parents Keith and Lisa, the Browns' decision to work together, in a bold and utterly original combination of their talents, resulted in a critically acclaimed debut recording that spent 8 weeks at No. 1 on the Billboard Classical chart and even notched a place in the Billboard Top 200 in its first week of release.
An American concert tour brought out audiences of all ages. The album's successful international release followed, led by showcase performances in Europe and Japan.
In their repertoire, style and sound, The 5 Browns stand out individually as well as together. Critics have called Desirae and Deondra a dynamic duo that exhibits an understanding that verges on telepathy, wrought with enduring seductiveness -- leaving their listeners' jaws on the floor. Gregory is a bravura type performer with a dynamic personality and technique who whips the audience into a frenzy. Melody's playing is elegant and the most expressive, critics say, as she presents a plethora of imaginative colorations, and Ryan is an imaginative storyteller who exploits his fluid fingers and instinctive sense of drama.
With a title that expresses everything the Browns feel about classical music and its potential, No Boundaries showcases the individual talents of each of the Browns.
In addition to the three selections arranged for five pianos, the disc includes the two-piano duo of Desirae and Deondra in Witold Lutoslawski's Variations on a Theme of Paganini, the two-piano duo of Gregory and Ryan in Malaguena from Ernesto Lecuona's Andalucia Suite, and the trio of Desirae, Deondra and Melody -- six hands, one piano -- in Sergei Rachmaninoff's Valse and Romance. Desirae and Deondra perform as a duet (four hands, one piano) in the Feria section of Maurice Ravel's Rhapsodie espagnole.
Gregory, Melody and Ryan are also heard in solo works. Gregory performs Franz Liszt's Hungarian Rhapsody No. 6 and American composer John Novacek's Full Stride Ahead Rag. Melody plays the Allegro moderato and Presto feroce from American composer Lowell Lieberman's Gargoyles, Op. 29, and Ryan is heard in the three-movement Danzas argentinas, Op. 2, by the Argentinian composer Alberto Ginastera.