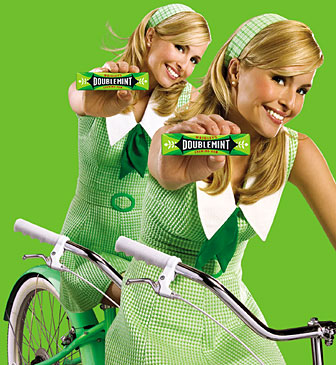 Wrigley's Doublemint Twins have been nominated as America's favorite advertising icons for Advertising Week's Madison Avenue Advertising Walk of Fame.
From now until September 23, Doublemint Twins fans can cast their vote to ensure that these advertising icons are remembered for generations.
Winners will be announced in Times Square on September 26, the first day of Advertising Week 2005.
Consistent with Wrigley's philosophy of communicating with consumers to create brand value and awareness, the unique Doublemint Twins were created to remind consumers of the double pleasure of Doublemint gum. The Doublemint Twins made their first television appearance in 1960 -- beginning an association with the brand that continues today.
In March 2005 Wrigley reintroduced the Doublemint Twins campaign in the United States with a fresh, fun and tongue-in-cheek look at all that's changed in the world since the original Doublemint Twins made their debut.
The Wrigley Company is a recognized leader in the confectionery field and the world's largest manufacturer and marketer of chewing gum, with global sales of more than four billion dollars.