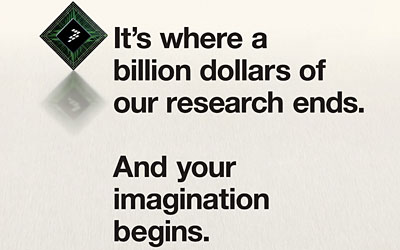 Freescale Semiconductor will launch its first global branding campaign in October. Included in the media mix will be ads for print, outdoor and in-airport locations that will provide an estimated four hundred million impressions during the year-long campaign. Targeted outlets include financial and technical print publications and their online counterparts. Ads also will appear in and near airports.
"This worldwide campaign is all about increasing awareness of Freescale among business and technology decision-makers," said Freescale's Tim Doke. "We want Freescale to be top-of-mind with customers, prospects, media and analysts -- and to showcase our innovation and vitality as a company. We believe this campaign will motivate and inspire our employees and help us recruit the best and the brightest talent across the globe."
The branding campaign was designed by Godfrey Q and Partners, an advertising agency that specializes in the technology sector. The tone and attitude of the campaign is factual and is designed to convey information about Freescale's leadership position in the semiconductor industry.

The ads highlight the company's 4,900 patents, the company's one billion dollar annual budget for research and development, and the fact that Freescale embedded processors are in cars, computer networks, smart phones, consumer electronics, industrial machines, and home appliances. Sixteen billion Freescale processors are currently in use around the world.
"The campaign is classic product as hero," said Patrick Godfrey, co-founder of Godfrey Q and Partners. "It's clean. It's simple. It's straightforward. It recognizes that the target audience is smart. And it captures a few of the many ways Freescale technologies help its customers make a smarter, more connected world."
The advertisements are scheduled to run in publications and in and near airports through 2006 in the Americas, Europe, India, Asia, and Japan.