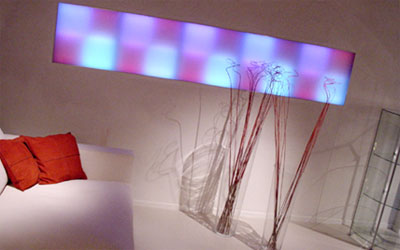 As an expansion of its award-winning Mood Light line, Traxon launched the Mood Light Reflector -- a beautiful mirror-finished, color-changing, LED panel -- a combination of light, color, and reflection.
An energy-efficient light source, the Mood-Light Reflector is a 19.5" x 19.5" x 2.75" panel that incorporates ultra-bright light emitting diodes with millions of RGB colors of variable intensity, and a life-expectancy of about 50,000 hours. Depending on the desired level of control, the Reflector is available in RF remote-controlled or DMX compatible models. A modular panel, the remote-controlled Reflector panel can be inter-connected with additional panels to form multiple control compositions.
The Mood-Light Reflector's aesthetic and color-changing qualities make for visually exciting designs and interiors. The Reflector is easy to install and can be used to add beauty to different surfaces, whether it is wallmounted, suspended from a ceiling, or built into furniture, floors, and walls.
The Mood-Light line transforms an LED fixture into a finished, aesthetically pleasing piece of art. As an addition to the Mood-Light line, the Reflector continues Traxon's tradition of outstanding lighting design.