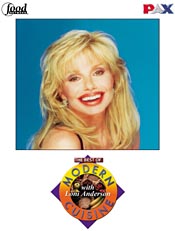 Zernon Corporation, a leader in the television production industry, today announced that its newest show "Modern Cuisine" will be hosted by the lovely and talented Ms. Loni Anderson. Ms. Anderson joins the ranks of other top celebrities in Zernon's bevy of top names in television, including former "Modern Cuisine" hosts Dom Deluise and Robin Leach. Zernon Television also currently produces "InMotion With Dan Marino" and Health on The Edge.
Modern Cuisine premiers June 5, 2002, and will air Saturdays and Thursdays on the TV Food Network, and Wednesday mornings on PAX TV. This weekly series is dedicated to the very finest in tastes and cuisines from around the world. Each week, "Modern Cuisine With Loni Anderson" will travel the globe to profile everything from the world's most delectable delicacies, to just plain good down-home cooking. The premiere episode features Source Atlantique's Modenacita balsamic vinegars from Italy, new healthy-lifestyle foods from the USA's own Kellogg's Company, the healthful benefits of Pepsi-Cola's Aquafina brand bottled water, H.J. Heinz's delicious Pasta Rosetto and its endless pasta possibilities, and the savory gourmet seafood of the Ipswich Clam Company of New England.
"I am so excited to be hosting this new series featuring marvelous recipes from great chefs around the world who will be sharing some of their best tricks of the trade with us...'Modern Cuisine' will bring magic to your culinary efforts and thrill your family and friends as they enjoy your culinary talent! Look for me and 'Modern Cuisine' on the TV Food Network and PAX Television," says Ms. Anderson.