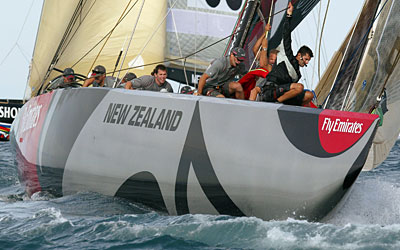 Pavilion Technologies is an official supplier for Emirates Team New Zealand, challengers in the 32nd America's Cup which will take place in 2007 in Valencia, Spain.
As part of the agreement, Emirates Team New Zealand will license Pavilion's technology to visualize, analyze and model navigational, structural and meteorological data. Harnessing data about weather conditions, ship design and sailing course means the crew can make model-based predictions that will improve overall team performance in its bid for the Cup.
"Technological innovations have always been a key contributor to America's Cup success and we are pleased to have Pavilion Technologies as an Official Supplier for the next Cup challenge," said Grant Dalton of Emirates Team New Zealand. "We believe that Pavilion's software, through its ability to model performance, identify improvements and provide predictive guidance, is a valuable contributor to our success."
Pavilion's modeling software recognizes complex patterns in data, applies models to incoming data and generates the best course of action to achieve the desired result. The software resides on the Emirates Team New Zealand yacht and continuously monitors more than 125 sensors capturing real-time information related to navigation, weather and overall ship conditions. By collecting and analyzing these data points the crew can model what-if scenarios in real-time during the race. Predicting the outcome of numerous potential actions -- such as the ideal position for crossing the starting line -- will maximize the yacht's performance in competition.
Emirates Team New Zealand is relying on the same software Pavilion's manufacturing customers use every day for advanced process control. Companies such as BP, Chevron Phillips and Nestle depend on the same solutions to increase yield, enhance product quality and reduce costs in manufacturing operations.
"Pavilion is proud to be an official supplier to Emirates Team New Zealand," said Pavilion head Ralph Carter. "It is interesting to see the same technology applied to competitive sailing that leading manufacturers around the world use to generate production improvements for their companies. The same advantages that manufacturers experience in overall business performance through our technology, Emirates Team New Zealand experiences on the water in a sailing environment."
The race for the America's Cup includes a series of qualifying rounds that began in 2004 and will culminate in the America's Cup match in 2007 in Valencia, Spain. Emirates Team New Zealand hopes to claim the Cup from Team Alinghi, which won the 31st America's Cup race against then Team New Zealand in 2003.