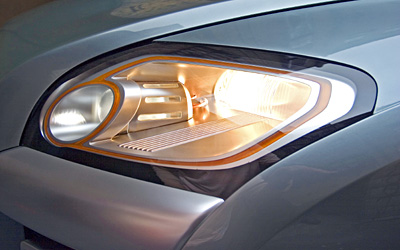 Tony Romero has been recognized by IDG's Computerworld as one of the business world's Premier 100 IT Leaders. The award honors executives who show exemplary technology leadership in resolving complex business challenges. Romero was honored at Computerworld's Premier 100 IT Leaders Conference, occurring March 8-9, 2004, at the JW Marriott Desert Springs Resort, Palm Desert, California.
"Tony and his team have done an extraordinary job of implementing sophisticated technologies to improve service, distribution and customer relationship management," said Finbarr O'Neill, Co-Chairman and CEO, MMNA. "His recognition as an information technology leader is well deserved and his team's accomplishments have greatly benefited our company and our customers."
Romero was selected from nearly 600 nominees, who were measured against Computerworld's IT Leadership Index, a set of characteristics that describes executives who guide the effective use of IT in their organizations, and evaluated by the editors and by an external panel of past Premier 100 honorees. Other honorees include leading IT executives from corporations such as J.P. Morgan Chase, Marriott International, American Express, Lockheed Martin, MetLife and the U.S. Air Force.
"Our Premier 100 list honors those who've had a positive impact on their IT groups and their companies during some of the toughest times in years," said Maryfran Johnson, editor in chief of Computerworld. "They lead people and projects to success. They're adept communicators who are 'bilingual' in tech-speak and business talk. But most significantly, they're still willing to take risks in these highly risk-averse times."
Romero's responsibilities at MMNA include IT strategy planning, development and integration of e-business strategies, technology planning and deployment, and business systems development for all Mitsubishi Motors companies and divisions in North America, including Canada and Puerto Rico.
"Using technology to improve communication with our dealers and our customers is a core element of our IT strategy and overall business plan," said Tony Romero, senior vice president and CIO, Information Technology, MMNA. "Our goal is to build strong, lasting relationships and we're implementing new technology to help make that possible." Under Romero's leadership, the IT department's successes include the implementation of order-to-delivery and order management systems, integration of a complex customer contact system, development of the new Mitsubishi dealer portal, the deployment of a state-of-the-art communications network infrastructure as well as the migration to web-based systems. In addition, Mitsubishi Motors has been named one of the top 500 technology innovators by InformationWeek magazine for the last five years in a row.
Romero has more than 30 years of IT experience. He joined Mitsubishi Motors when the company was formed in 1982, as a technical support specialist. He assumed the CIO role in 2001 and was promoted to senior vice president in 2003. Prior to his tenure at Mitsubishi, Romero was manager of technical services at Western Airlines. Mitsubishi Motors North America, Inc., (MMNA) is responsible for all manufacturing, finance, sales, marketing, research, design and engineering operations of the Mitsubishi Motors Corporation in the United States, Canada, Mexico and Puerto Rico.
Mitsubishi Motors sells coupes, convertibles, sedans and sport utility vehicles through a network of nearly 700 dealers throughout North America.