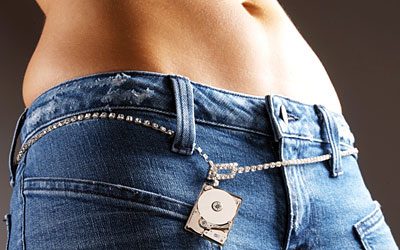 High-capacity, miniature hard drives from Hitachi Global Storage Technologies are the industry's smallest one-inch and lightest 1.8-inch hard drives.
Hitachi anticipates these two hard drives will play key roles in the emergence of high-capacity smart phones, multi-function audio/video players and other handheld consumer devices. Consumer electronics manufacturers have designed Mikey and Slim into prototype consumer devices.
The new drives feature higher capacity on smaller footprints, easier integration with a ZIF connector, industry-first CE-ATA interface, lower power consumption for longer device battery life and shock protection including a new drop sensor.
"We believe the hard drive -- especially miniature hard drives -- has become the must-have accessory for today's portable electronic devices; in consumer electronics, the hard drive has truly become the new bling for both the valuable and priceless data they carry," said Bill Healy of Hitachi. "Mikey and Slim offer the unique combination of small physical size and high capacity to give new categories of devices -- like smart phones -- the benefit of more powerful applications that require multiple gigabytes of capacity at an affordable price."
Mikey, which is officially called the Hitachi Microdrive 3K8, will be available with 6 and 8 gigabytes of storage capacity and, yet, is nearly 20-percent smaller and consumes 40 percent less power than its predecessor. The 3K8 is also the first hard drive to offer the CE-ATA interface, which is designed to support the specific relationship between small-form-factor hard drives and the handheld consumer electronic devices in which they are embedded.
Hitachi is deploying drop-sensor technology on the new Microdrive, which protects against data loss in the event of a drop. Hitachi's protection technology works by immediately parking the read-write head safely away from the surface of the disk when it detects a fall, preventing head/disk contact which may cause data loss.
The protection is activated during a drop of as little as four inches and effectively allows the operating-shock tolerance to mimic non-operating-shock tolerance, which in the 3K8 equates to 2000 Gs, the industry's highest shock rating for a one-inch hard drive.
The increased tolerance will be especially useful in emerging hard-drive-based smart phones, which may experience greater user handling and, potentially, a greater number of drops than other types of consumer devices.
Hitachi's newest 1.8-inch drive, the Hitachi Travelstar C4K60 Slim, sports a profile that's 30-percent thinner than its predecessor, measuring a mere 5 mm on the one-disk model. With its new physique, Slim is tougher and lighter than any other 1.8-inch drive on the market, for a total volume advantage of 10 percent.
Slim offers an upper capacity of 30- and 60-GB of storage on the one- and two-disk model, respectively. Slim, like Mikey, features a ZIF connector for ease of integration in consumer electronic devices. Both drives are using femto slider technology for improved shock performance and power consumption. Specifically, Slim features a 20-percent improvement in operating shock tolerance and offers the highest shock rating in its class.
In delivering the industry's first product to support the CE-ATA, Hitachi is highlighting its commitment to create hard drives that meet the specific needs of CE device manufacturers, such as low pin-count, low voltage, power efficiency, cost-effectiveness and integration-efficiency.
The new CE-ATA interface, along with parallel ATA, will be available on all capacities of the Microdrive 3K8. Hitachi is also making the 3K8 available in the ATA on MMC interface. In addition, Hitachi plans future support for CE-ATA on its 1.8-inch Travelstar product line.
The 6- and 8-GB versions of the Microdrive 3K8 are now shipping in limited quantities, with volume shipment planned for October. Hitachi's protection technology and support for the CE-ATA and ATA-on-MMC interfaces will be available starting in December.
The Travelstar C4K60 Slim will begin volume shipment of the 30-GB version at the end of this month. The 2-disk, 60-GB Slim model will ship in the first quarter of 2006.