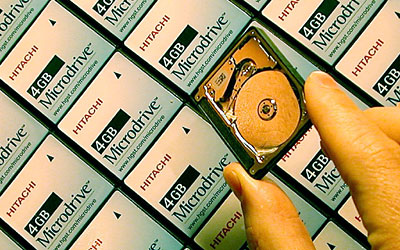 Driven by exponential increase in demand for its Microdrive storage media, Hitachi Global Storage Technologies is implementing an unprecedented growth strategy for the one-inch hard drive. In 2004, Hitachi GST plans a substantial manufacturing expansion for the 4 gigabyte (GB) Microdrive product at its Thailand facility. This development is being spurred by the proliferation of hard disk-based storage in consumer electronic devices, especially portable digital music players.
Hitachi GST recently received approval from the Thailand Board of Investment (BOI) to expand its local hard drive production from 30 million to 60 million units annually, including production of the one-inch Microdrive, 2.5-inch Travelstar and 3.5-inch Deskstar product lines. To double its annual production, Hitachi GST will invest $200 million (8 billion Baht) to upgrade and expand the Thailand facility over several years. With this move, Thailand will help to positively impact hard drive availability worldwide, especially Hitachi GST's highly popular Microdrive product.
In 2004, Hitachi GST plans to significantly increase production volume of the 4 GB Microdrive media to several million units per quarter. The company expects this growth trajectory to continue into the foreseeable future, in line with consumers' growing appetite for storing large amounts of entertainment content in portable formats. The recent Thailand BOI action will more easily facilitate any additional Microdrive manufacturing increases Hitachi GST needs to make beyond current production plans.
"The growth of consumer electronic devices that require high-capacity, miniaturized storage is accelerating the pace of Microdrive adoption beyond our expectations," said Bill Healy, senior vice president, Consumer & Commercial HDDs, Hitachi Global Storage Technologies. "After being the hard drive miniaturization leader for the past five years, we are validated in seeing the tremendous opportunity that now exists for the one-inch and other small form factor drives. Hitachi GST is preparing take full advantage of this opportunity with our Thailand plans."
Demand for the Hitachi Microdrive digital media has risen across all segments -- digital cameras, PDAs, GPS devices, etc. -- but is strongest among hard disk-based digital music players.
Hitachi GST is, today, the largest hard disk drive manufacturer in Thailand and will be far ahead of its closest competitor with the recent BOI approval for production of 60 million units annually. Hitachi's planned $200 million investment is intended to expand production across a variety of product lines. Specifically, the funds are intended for productivity and technology improvements. In addition, Hitachi GST will add new production lines and automation to allow for better usage of space.
Over time, Hitachi GST plans to provide employment for 16,000 Thai workers to support the planned manufacturing increase. Currently, the company provides employment for nearly 12,000 people -- 7,000 at its own manufacturing plant in Prachinburi and another 5,000 through a contract manufacturing partnership with Union Technology Co., Ltd. in Sriracha.
Hitachi GST's Thailand operation produces the one-inch Microdrive media, the 2.5-inch Travelstar notebook hard drive and the 3.5-inch Deskstar desktop hard drive. All three are industry-leading products.
The 4 GB Microdrive digital media is a major storage capacity breakthrough and the first of many storage miniaturization advancements that are being made by Hitachi's world-class product design and development team. The new 4 GB drive uses ultra-miniaturized components, including a new read-write head that is half the size of its predecessor and results in reduced power consumption, higher shock performance and greater recording capacity. Hitachi's newest Microdrive also features a 70 percent improvement in data transfer rate over its predecessor. The 4 GB Microdrive product exemplifies Hitachi's commitment to leadership in the high-growth area of storage miniaturization.
The Microdrive digital media was introduced in 1999 by IBM initially at 340 MB and later at 1 GB of capacity. With the acquisition of IBM's hard drive business in 2003, Hitachi GST launched the 2 and 4 GB Microdrive products the same year and continues the tradition of miniaturization excellence with this latest Microdrive development.