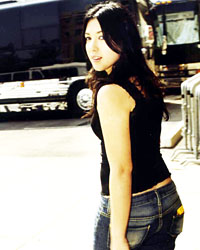 Starburst candy announced today its sponsorship of Michelle Branch's 2003 "Michelle Branch Where Are You Now Tour." As presenting sponsor of the 35+-city tour, the popular candy line of Fruit Chews, Jellybeans and Pops aims to keep fans "happy now" as they sway to the sounds of the Michelle's popular hits, including "Are You Happy Now" and "Where Are You Now?"
The tour kicked off in Poughkeepsie, New York on October 2 and will appear in a variety of venues throughout the country through December 15, 2003.
"Sponsoring Michelle's tour was a perfect fit for us," said Mike Tolkwoski, Starburst Brand marketing director. "Starburst is a great complement to what teens value most - friends, music and hanging out. We are a key part of the mix because of our variety of flavors and sharability."
Starburst Brand fruit chews come in five varieties -- Original, California, Tropical, Sour and new Fruit and Creme. In addition, fans can enjoy Starburst Brand Jellybeans and Fruit Chew Pops.