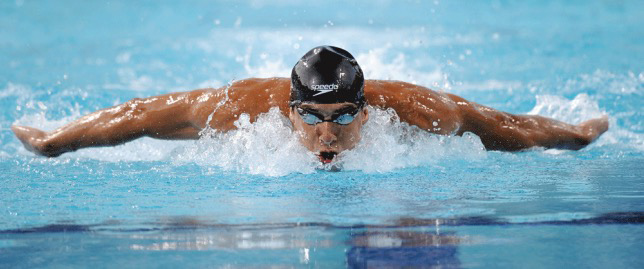 It was cheers and plenty of hometown pride today as Olympic Gold Medalist Michael Phelps returned to his roots outside of Baltimore. The Olympic athlete who came home from Athens with a record tying eight Olympic medals made his first post games appearance for adoring fans in Towson, Maryland.
Michael was a judge at the 2005 Miss USA pageant.
Hundreds of his fans lined up to congratulate Phelps and get his autograph. Representatives from AT&T Wireless presented him with a special wireless phone with streaming video capabilities so he can view NBC news clips of his Olympic swim events wherever he has wireless coverage. Phelps is an acknowledged avid user of wireless picture messaging and text messaging services.
"AT&T Wireless is very proud to be a sponsor of one this year's true Olympic legends, Michael Phelps," said Vice President Frank Iovino. "In addition to winning six gold medals and two bronze medals, Michael's sense of sportsmanship and patriotism embody the true essence of what the Olympic games represent."
The appearance in Towson is the first of three appearances Michael Phelps is scheduled to make. A second event will take place on Sunday, September 12 at Penn State University in Pennsylvania. Penn State students will be able to ask Phelps about his Olympic experiences and get his autograph. The Penn State University event will also include a special swim demonstration as part of the Disney Swim with the Stars tour stop and will feature Phelps' swim teammates including Olympic Gold Medal swimmers, Ian Crocker and Lenny Krayzelburg. Phelps will make a third appearance later this month in Los Angeles.