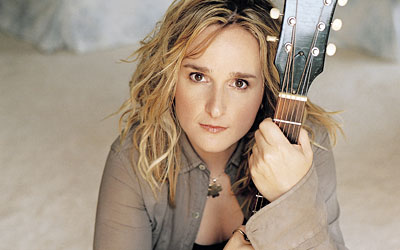 "Being able to share the experience of performing live with my band over the last months through this DVD and CD is very close to my heart. It's the next best thing to being there."
Melissa Etheridge's Lucky Live, to be released September 28, 2004, is her first concert DVD to feature her with a band and the CD DVD version is the first release of an Etheridge live album.
For Lucky Live, released both as a stand-alone DVD and as a CD DVD package, Etheridge performs all 13 songs on her early 2004 album Lucky, a Top 20 hit, including favorites Breathe, Lucky and This Moment, plus the never-before-released exclusive track Good Girls And Boys. Originally shot in high-definition by director Michael A. Simon (who also filmed Live ... And Alone), Lucky Live is a stunning visual experience of Etheridge with her band at the Roseland Ballroom in New York City during her 2004 Get Lucky Tonight tour.
Mixed in Dolby 5.1 surround sound and stereo, the DVD also features an exclusive concert commentary track by Etheridge and members of her band as well as a 44-minute A Day In The Life documentary and a special 14-minute interview with the two-time Grammy Award winner. The CD, with its audio of the same concert, provides a more mobile experience of the performance.
The inspiration with this CD DVD release was her eighth studio album, Lucky, a celebration of new romance -- a love letter both rock 'n' roll and tender -- was hailed as perhaps her most direct, personal and upbeat album to date. Since its release, Etheridge has been on a tour of major markets that continues through October.
In her career, Etheridge has received 12 Grammy nominations, sold more than 30 million albums worldwide, penned a New York Times best-selling autobiography (2001's The Truth Is ...) and received the prestigious ASCAP Songwriter of the Year Award. Millions of people around the globe have experienced the raw emotion of her countless live performances. In a field that often places images over substance, Melissa has become known for her forthright honesty.
The tour will visit Minneapolis, Chicago, Toronto, Boston, Montreal, New York, Oakland, Long Beach, and Tucson from September 24 to October 30, 2004.