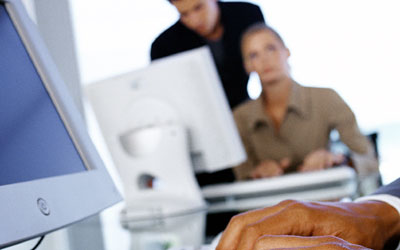 Meeting Maker, the leader in collaborative time management solutions, introduces the next generation of calendar and scheduling software, Meeting Maker Millennium. The first release in a series of innovations from the company, Meeting Maker Millennium is shipping today. It is designed to improve organization-wide productivity through a powerful workflow model and intuitive user interface. Meeting Maker Millennium offers industry standards such as iCalendar and e-mail integration for seamless communication with people and calendars within and outside of your organization.
"The Millennium release culminates extensive work on new interface and Web-based architecture enhancements. We've taken the Meeting Maker product that is so well known to those who need a robust calendaring and scheduling solution and enhanced it to take advantage of today's computing and Internet standards." said Margaret A. Menzies, VP of Development at Meeting Maker "The new look and feel of the calendar application should please traditional users while the HTML calendar and Web Services connectivity will expand Meeting Maker's appeal into the portal and Web-based world."
Duke University's Fuqua School of Business deployed Meeting Maker Millennium to its user base this summer. According to Nevin Fouts, Fuqua's Associate Dean for Information Technology, "The HTML client is a perfect fit for our MBA population. Students can access scheduling information from Workstations and ExpressStations located throughout our environment as well as from their wireless laptop or tablet computer." Scheduling information is also available for students, staff, and faculty through FuquaWorld, a state-of-the-art portal environment. This integrated scheduling capability was enabled through advance use of Meeting Maker's new Arrival Web Services technology.
Meeting Maker Millennium offers real-time collaboration throughout your entire organization, saving time lost to people scheduling. Viewing the availability of individuals or groups and then scheduling with them has never been easier. Meeting Maker Millennium key features and benefits include:
Web access for remote users that need quick access to their calendars
E-mail integration provides the ability to contact attendees and send them attachments using your own email client
iCalendar support to seamlessly integrate with people and calendars outside of your organization
Streamlined workflow to improve productivity
Intuitive user interface means little or no training
Colors and labels, various layouts, and numerous viewing options provide customization of the look of your calendar
Share your free and busy time with others, vastly simplifying the group scheduling process
Integration into your portal so the entire organization can take advantage of efficient scheduling solutions
Meeting Maker offers freedom of choice by working with all major operating systems including Windows, Macintosh, Linux and Solaris. It synchronizes with Palm, PocketPC, and Blackberry PDAs and between all 319 time zones. Meeting Maker is not tied to email so even if your email is down due to the latest virus, you can still access your calendar. With Meeting Maker, you will spend less time booking meetings and more time booking business.