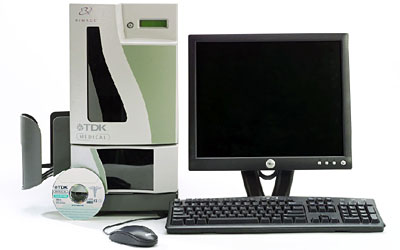 TDK Medical's DMC 2000 DICOM Media Creator is innovative medical DVD and CD recording solution that incorporates an integrated PC. Connected to any DICOM network, the DMC 2000 network appliance enables on demand recording of patient studies to DVD or CD, drastically reducing film costs and streamlining workflow. Because of the efficiencies enabled by its fully integrated design, the DMC 2000 represents an unprecedented value for medical institutions of all sizes. It's the ideal system to replace costly, inefficient film printers. The DMC 2000 is now available to medical institutions nationwide.
Supporting the DMC 2000's launch, TDK is debuting Blueprint software, its new and improved medical recording software that's faster and easier to use, yet more powerful than previous applications. Pre-loaded on every DMC 2000, the highly flexible Blueprint software features a Web-based interface that's accessible from any PC on the DICOM network. Practically any computer located anywhere in the institution can be used to push patient studies to the DMC 2000 and record them to DVD or CD on demand. A versatile network appliance, the DMC 2000 provides unmatched flexibility in allowing an entire radiology department to record patient images and results onto cost effective media.
Michael Sutherland, Vice President, TDK Medical Division of TDK Electronics Corp., pointed out, "The introduction of our DMC 2000 DICOM Media Creator and Blueprint software represents a major step forward in the field of digital medical imaging. For the first time, institutions of any size have access to a fully integrated, all-in-one network appliance that has an extremely small footprint and delivers unmatched efficiencies by streamlining workflow and reducing costs in comparison to operating a film printer." Sutherland continued, "Printing a patient study on film costs approximately 20 times more than recording the same study, along with results, on a CD. Because of its remarkable efficiencies, the DMC 2000 can pay for itself in as few as eight weeks."
TDK introduced its first medical CD recording solution in 1998. The DMC 2000 significantly expands on the capabilities of first-generation TDK Medical recording stations to provide even greater versatility, functionality and cost-effectiveness. The turnkey DMC 2000 connects to a DICOM network switch or hub via 100BASE-TX Ethernet connections. The unit features a custom TDK and Rimage Robotic System complete with a CDRW drive (DVD recording drive is optional) and thermal CD printer. Unlike previous medical CD recording stations, the DMC 2000's PC is embedded in the same housing that contains the robotics. The DMC 2000 is capable of holding 50 DVDs or CDs, providing considerable production capacity without reloading. To provide easy disc identification as well as promotional opportunities for referring institutions, the DMC 2000 automatically prints patient and facility information on each disc's label. Because of its high output capabilities and low cost, the DMC 2000 is ideally suited for institutions of all sizes.
The DMC 2000 performs image transfers with any approved DICOM-compliant modality or network. The unit operates as a DICOM Storage Service Class Provider (SCP) to receive studies pushed to it from network-connected modalities, and as a Service Class User (SCU) to send studies to the modalities. The DMC 2000 also performs as a DICOM Query/Retrieve client, allowing it to pull studies from DICOM Query servers. Studies are stored on hard disc in a DICOM-compliant database.
By seamlessly merging advanced features and unprecedented ease of use, the new Blueprint software marks a turning point in medical recording. Using the DMC 2000's Blueprint browser interface, authorized DICOM network users can simultaneously store, query, retrieve and create/import discs. Blueprint software allows diagnostic reports and non-DICOM data to be stored on each CD and DVD created. Easily identifiable icons provide instant access to key functions, virtually eliminating a learning curve. CD and DVD creation activity is stored in log files for HIPAA readiness, and advanced searching features make it easy to rapidly locate any patient study. As an added bonus, the interface can be readily customized to reflect the facility's colors and logo.
The software suite also includes Merge eFilm's eFilm Lite viewing software. A viewer is embedded on every CD and DVD created by the DMC 2000, allowing studies to instantly be viewed on any PC.
In addition to hardware solutions, TDK Medical offers a complete line of fully certified medical-grade, archive-quality media, including CDR, DVD+R, DVD-R, DVD-RAM, magneto-optical media, data cartridges and S-VHS videotape. The CD and DVD media are tested for compatibility with all DICOM recorders, and are available in a variety of formats and storage capacities, including CDR media packaged in TDK Medical's exclusive MedCaddy protective housing, which protects discs from damage and errors caused by mishandling.
TDK Medical media meets the needs of a wide range of medical industry applications, from angiography, cardio-angiography, PACS, ultrasound, CT, MRI and digital X-ray imaging to nuclear, fluoroscopy and radiation therapy and other applications.
TDK Medical CDR media features an exclusive, pre-grooved substrate that delivers the lowest error rates in readers and writers. A proprietary stamper and dedicated manufacturing lines further ensure that TDK Medical CDR media provides superior quality. Users can rest assured that TDK Medical CDR discs are designed and certified specifically for medical applications.