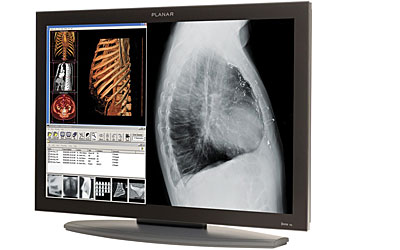 The Dome EX line from Planar Systems includes the first 4-megapixel color diagnostic display medically certified for the healthcare field.
Designed for use in areas such as radiology, cardiology, nuclear medicine, positron emission tomography/computed tomography, dermatology, and the operating room, Planar's Dome E4c features a widescreen, 16:9 format that simplifies comparison studies by eliminating the image split associated with dual-head monitors, providing more screen space for multiple images. The new medical display enhances visualization of various color modalities, 2-D color imaging, image fusion, and 3D imaging.
"Planar's innovative EX line of color displays satisfies a true market need," said David Kurzynski of Emageon. "Through our combined efforts this year, Emageon and Planar have delivered high performance advanced visualization using the OpenGL graphics standard. The Dome EX line naturally extends these benefits to color medical displays."
The Dome E4c can display more than 90 percent of a computed radiography image without the need to scale it down and also can show 15 full-size 512 x 512 color and grayscale images at the same time.
Planar has also introduced the new Dome EX line with color and grayscale displays in two and three-megapixel resolutions, as well as a new five-megapixel grayscale display. The Dome EX line offers fast performance for smooth image rotation and high brightness and contrast ratios for vivid representation of grayscale and color images.
The new color displays are ideal for use in a distributed PACS environment for areas ranging from radiology and cardiology, to dermatology and applications in the OR. The new grayscale displays in the Dome EX line have been designed for diagnostic applications including magnetic resonance, ultrasound, digital radiography, digitized film, and mammography.
Planar's Dome EX line of DICOM-calibrated diagnostic imaging displays features Planar's advanced Dome DA4 hardware architecture, enabling the use of select, commercially available graphics controllers for open standards support. Open standards, such as OpenGL and DirectX, provide the capability to perform texture mapping, volumetric rendering and other powerful visualization functions often used in interactive 2D and 3D medical viewing applications.
"Surgeons and diagnostic physicians have been looking forward to the expanded scope and larger viewing areas promised by the wide-format 16:9 aspect ratio monitor prototypes," said Katherine Shariq of Frost and Sullivan. "Planar's introduction of a wide-format monitor will be a welcome addition to the market and will complement Planar's already broad product line."
Planar provides flat-panel display hardware and software solutions for medical, retail, industrial, and commercial applications.