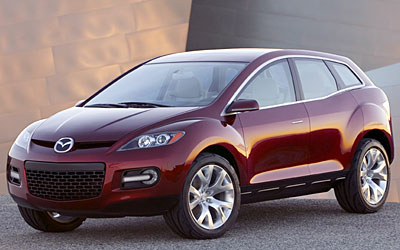 The Mazda MX Crossport design concept represents a new direction Mazda is considering as it works to expand its line-up of successful new-generation products. The crossover-type vehicle combining strong styling cues from the company's flagship RX-8 sports car with the more practical packaging of sport-utility vehicle.
The powerful, bold, three-dimensional identity of the concept car was created to be both surprising and uniquely eye-catching. It is a new frontier for Mazda, leading the company into a new segment, expanding the definition of Zoom-Zoom from both a design and packaging standpoint.
"Mazda has momentum right now and one of our immediate challenges is to harness this momentum and create new products that will help us strengthen our results in the major markets around the world," stated Mazda design director Moray S. Callum. "I challenged our design team to further evolve and expand our existing design DNA. The result of this challenge is the MX Crossport, which was designed very much with the North American market in mind."
Design is an important element of all Mazda products, and, as such, the MX Crossport is first and foremost a design concept. It is being presented in Detroit as a design study, not an engineering study.
Chief Designer Koizumi, whose previous works include the successful MAZDA6, calls this concept an advanced frontier for Mazda, meaning the concept merges the speedy and athletic image of Mazda's best sports car with the toughness and practicality of an SUV. The result is a vehicle that takes Mazda and its Zoom-Zoom image into an area it has never before ventured.
Chief designer Koizumi expresses his confidence in the design by stating, "Design language in a product like this is very important. No matter the powertrain or the segment in which the vehicle will compete, the design must have the same powerful Zoom-Zoom language. The cockpit has also been designed to perfectly meet the powerfulness of the exterior design."
"Our goal was to design a vehicle that transcends the existing categories of SUV and crossovers and steps into the realm of sports car. We want to let people experience the world of sports cars every time they get behind the wheel," Koizumi added.
The dynamic nature of the interior design was created to communicate a visual sense of motion and speed and to test potential design themes that could be incorporated into a production model.
While Mazda has not yet officially confirmed a production model based on the MX Crossport, the company has stated that it intends to expand its line of new-generation Zoom-Zoom products for the North American market and beyond. The MX Crossport is an important conceptual step forward in the process.