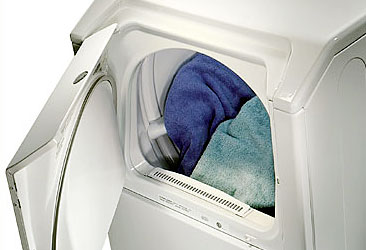 Maytag Corporation today formally introduced its latest innovative product - the Neptune Drying Center - at a special analyst presentation in New York City. The presentation allowed the financial community its first look at a category- defining product.
The new Maytag Neptune Drying Center - or Neptune DC as it is called - pairs a traditional tumble dryer with a revolutionary upper drying cabinet. Like the Neptune washer before it, Maytag has created an innovative, high quality product that changes how consumers approach everyday laundry tasks.
"Maytag's growth strategy is built on preferred brands and innovative products," said Maytag Chairman and Chief Executive Officer Ralph Hake. "The Neptune DC demonstrates the strength of our strategy and further extends our legacy in the laundry industry. With this addition, we have created a product that leverages the Maytag Neptune brand position and creates a suite of appliances with obvious consumer benefits."
The Neptune DC not only dries clothes, but also minimizes shrinkage, hastens the drying process, reduces wrinkles, eliminates odors and refreshes clothes. The multi-purpose format, which fits in approximately the same floor space as a standard dryer, responds to consumers' cries for better garment care from their dryers.
"In the past, the dryer industry has been driven by washer sales - we feel the Neptune DC will change that," Hake said. "This is a product that consumers will simply want to have. The Neptune Drying Center meets unmet needs and consumers quickly grasp how this appliance will make their lives easier."
Hake and Maytag Appliances President addressed the strategy behind this new innovation.
"The Neptune washer was introduced in 1997 and created its own premium laundry category," said Beer. "It's our intention to continue to focus on creating value across all laundry categories but particularly at the high end."
He added that the introduction of the Neptune DC is one of many new product launches in 2003. "We are excited about the many new innovations we have introduced across all of our platforms," he said. "But Maytag has long been known as the company that revolutionized the way consumers clean clothes, and we feel the Neptune DC will extend the company's established position in a new category."