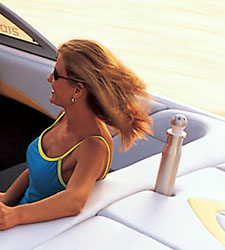 It was an exciting week at the 2004 MasterCraft Dealer Days as the world's premiere inboard boat builder recognized the accomplishments of its vast dealer network, introduced the all new MasterCraft X-80 and unveiled a new company motto/marketing campaign -- Held To A Higher Standard.
"We had another tremendous Dealer Days," said MasterCraft President & CEO, John Dorton. "This meeting comes on the heels of an unbelievable summer, unmatched by any other year in our company's history. The MasterCraft ProStar 190/197 towed 3 water ski world records, the X-Star was voted #1 wakeboard boat by WakeWorld.com riders and the MariStar 280 VLD earned Boating's Boat of the Year award. Who could ask for more? Our dealers are rallying behind us and we have a tremendous amount of momentum going into the boat show season."
MasterCraft started the event by thanking their dealer network for an outstanding year with an elaborate banquet, numerous awards and a pre-recorded television spoof of "The Bachelor" where President's Award nominees tried to woo Dorton for the company's coveted rose (aka The President's Award).
One by one Dorton narrowed the field, soul searching along the watery banks of the company's world headquarters, pulling rose pedals and listening to a Kenny G soundtrack. In the end, Action Water Sports (AWS) won Dorton's affections and the company's highest honor -- for the second year in a row!
"I couldn't believe it," said Jerry Brouwer, AWS owner. "Last year my sales and services staff weren't in Coeur d'Alene when we won the award so they couldn't really appreciate what a big deal it is. I didn't expect to win again, but I took the entire group. This time everyone was there and they were so overwhelmed. It's pretty amazing because when we first started selling boats [in Holland, Michigan] the market hardly existed. I used to sit back and think even if we worked our butts off we'll probably never be in the top-twenty because there are too many big metropolitan dealers that we won't be able to compete with. I just really started to believe in controlling the controllables and maintaining a laser beam focus. Marketing to the right people and delivering outstanding customer service. Now everyone on our staff is a believer."
In 2003 Action Water Sports opened a second location in Traverse City, Michigan, was ranked #1 in service among MasterCraft's Midwest dealers, was ranked #1 in marketing among MasterCraft's Midwest dealers, ranked #8 in national sales and appeared on the cover of Boat & Motor Dealer's Sept./Oct. issue.
Over 120 MasterCraft dealerships from around the globe attended the company's annual 4-day meeting at the Grand Cypress Hotel in Orlando. After the last of the awards were handed out, Scott Crutchfield, VP of worldwide sales, challenged the crowd to get down to business. The next 3 days were focused on extensive sales and customer service training that included seminars on The Power of the Brand Boat Shows to Promotions, Customer Service, Virtual Factory Tour, Competitive Brands, Big Boats 101 and Online Boat Ordering.
Dealers were also invited to test drive 17 MasterCraft models and competitive brands at 2 nearby lakes. Those models included the new MasterCraft X-80, which is a wakeboard version of the MariStar 280 VLD complete with a liner ballast system and X-Series attitude, as well as a yet-to-be named product scheduled to premiere at the Miami International Boat Show on February 12.
Members of the media were also privied to meet with top company executives, test boats and ski or wakeboard with MasterCraft's elite team of professional athletes during the company's Media Day event.
"Dealer Days is undoubtedly the biggest thing we do all year," said Rob May, director of marketing. "This event sets the tone for an entire year. It helps us stay on message with our dealers and customers - that MasterCraft is held to a higher standard in styling, performance and construction. This focus, combined with the awards we've won over the past year and the incredible enthusiasm of our dealer network leads me to believe that we're going to have an incredible boat show season."
MasterCraft designs and builds high quality, high performing sports luxury boats.