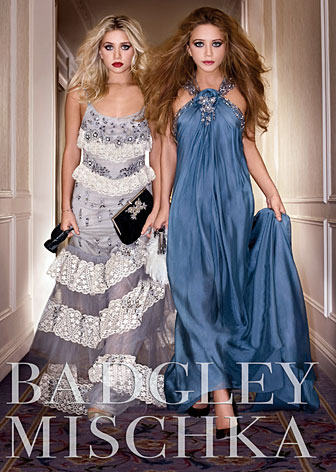 Ashley Olsen and Mary-Kate Olsen will appear in an advertising campaign Badgley Mischka. The multimedia campaign will debut in April. The campaign marks the twins' first partnership with a luxury fashion house. The campaign will also be the first time the stars will promote a brand other than their own.
Ashley explained: "We have been fans of Mark and James for years and were honored when approached to appear in the campaign. When I wear Badgley Mischka I feel sexy and feminine," Mary-Kate added, "Recently, we attended their fall fashion show. The clothes were glamorous, beautiful, colorful, and fun."
Mark Badgley and James Mischka said: "Ashley and Mary-Kate have grown up to become America's young style icons. They have an amazing sense of fashion and individuality that intrigued us. Ashley and Mary-Kate reflect the younger, edgier and more sensual glamour that we have incorporated into our latest fall collection."
Creative director Dari Marder said that "the central theme of the campaign was modern day Cinderella's. Creatively, we were all about having the girls look gorgeous and elegant but not perfectly coiffed. It is a looser more unrefined and approachable glamour."
The campaign was photographed by photographer Gilles Bensimon in the Presidential Suite of the St. Regis Hotel. The campaign features both Olsen's wearing gowns from the couture collection. In addition to the print ads, the campaign will also appear on the internet and in-store.
Badgley Mischka has been hailed by Vogue as among the Top 10 American Designers and their designs appeal to a range of celebrities. Badgley Mischka is sold in the most prestigious stores.