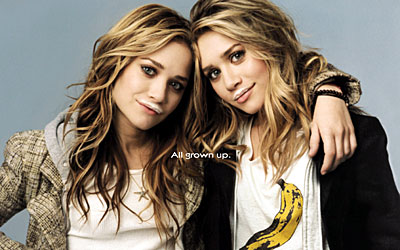 Mary-Kate and Ashley Olsen are about to add another accolade to their already-established roles as teen sensations. Along with starring in their first major motion picture, New York Minute, they are becoming the first twins to wear the famous milk mustache.
Mary-Kate and Ashley's new "got milk?"/Milk Mustache ad speaks to teenagers -- who are drinking twice as much soda as milk and falling dangerously short of getting the calcium they need. Nine out of 10 teen girls today fail to meet daily calcium recommendations and researchers believe this lack of calcium may be causing irreversible bone damage.
Teenagers need at least 1,300 milligrams of calcium per day, which is equivalent to about four 8-ounce glasses of milk. Experts say the teen years are a critical time to contribute to your "bone bank" because there's a limited-time only to build bone density. Nearly half of all bone is formed and almost 15 percent of adult height is added by the end of adolescence.
"We wanted to appear in this ad because we love the campaign and we want to help make sure our fans are healthy like us," said Mary-Kate Olsen. "It is important to drink milk because it keeps you strong and helps you grow tall."
Unfortunately, soft drinks and other sugary beverages are often taking the place of milk - leaving teens deficient in calcium during these make-it-or-break-it years.
"It's great to have popular teen role models set a good example and encourage young people to drink milk more often," said registered dietitian Ann Litt, MS, RD, who specializes in adolescent nutrition. "Depriving your body of milk during these critical years of growth and development may lead to stress fractures now and osteoporosis later in life." Litt is the author of "The College Student's Guide to Eating Well on Campus."
Mary-Kate and Ashley began their careers at the tender age of nine months on the television sitcom "Full House." Nearing their 18th birthday and the start of college, the popular twins are now involved in movies, videos, albums, books, perfume and even their own clothing line.
"We've watched Mary-Kate and Ashley grow up to be successful, beautiful and healthy," says Kurt Graetzer, CEO of the "got milk?"/Milk Mustache campaign. "Milk has played a part in that and now they're helping their fans grow up strong by spreading the word about milk's important role in teen bone growth."
Mary-Kate and Ashley's new milk mustache ad will debut in the May 7 issue of People magazine. Their message: "All grown up. We're not little girls anymore. But, that doesn't mean we've stopped drinking our milk. We know about 15% of your height is added during your teen years and the calcium in milk can help. Who knows, you might be the next big thing."
For more information on the benefits of drinking milk and to view the new Mary-Kate and Ashley Milk Mustache ad and behind-the-scenes footage of the ad shoot, log onto www.whymilk.com.
The National Milk Mustache "got milk?" Campaign is jointly funded by America's milk processors and dairy farmers: the MilkPEP Board in Washington, D.C., and Dairy Management Inc., Rosemont, Illinois. The goal of the multi-faceted campaign is to educate consumers on the benefits of milk and to raise milk consumption. A series of educational brochures is available by visiting the milk Web site at www.whymilk.com. Lowe is the creative agency for The National Milk Mustache "got milk?" Campaign.
The tagline "got milk?" was created for the California Milk Processor Board by Goodby Silverstein & Partners and is licensed by the national milk processor and dairy producer groups.