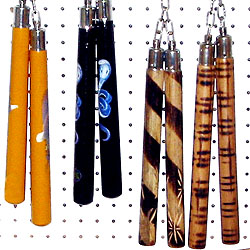 Sports

Aikido - Aikido neutralizes aggression and renders attackers harmless

Karate - The most popular martial art

Krav Maga - Today's cutting-edge self-defense and hand-to-hand combat system


Zen in the Martial Arts by Joe Hyams - Under the guidance of such celebrated masters as Ed Parker and the immortal Bruce Lee, Joe Hyams vividly recounts his more than 25 years of experience in the martial arts. In his illuminating story, Hyam reveals to you how the daily application of Zen principles not only developed his physical expertise but gave him the mental discipline to control his personal problems-self-image, work pressure, competition. Indeed, mastering the spiritual goals in martial arts can dramatically alter the quality of your life - enriching your relationships with people, as well as helping you make use of all your abilities.
Living the Martial Way : A Manual for the Way a Modern Warrior Should Think by Forrest E. Morgan - Hailed by many as the best book available on the subject, Living The Martial Way is a step-by-step approach to applying the Japanese warrior's mind-set to martial training and daily life. It combines a knowledge of fighting with an exploration of the culture of the warrior. Morgan carefully guides the reader from The Way of Training, through The Way of Honor, to The Way of Living, constantly finding applications both inside and outside the martial arts.
Brazilian Jiu-Jitsu : Theory & Technique by Renzo Gracie, Royler Gracie, Kid Peligro - During the last decade, the martial arts world has looked to innovative mixed martial arts competitions such as the Ultimate Fighting Championship to determine which fighting style is the best. These contests have repeatedly shown the grappling style of martial arts, headed by Brazilian jiu-jitsu, to dominate. The Brazilian jiu-jitsu style stems from the premise, garnered from analysis of actual street fights, that the outcome of any fight is decided on the ground. While most martial arts deal only with the initial punching and kicking stages of combat, Brazilian jiu-jitsu concentrates on ground combat. This guide shows how to use Brazilian jiu-jitsu to increase combat effectiveness. Photographs and step-by-step instructions show how to master the techniques used in this exciting new form of combat.