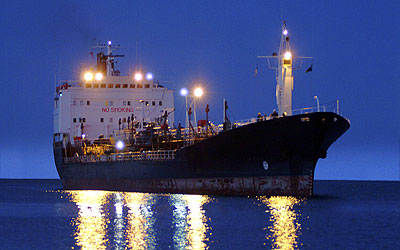 EMS Technologies and its subsidiary LXE will demonstrate a comprehensive set of port security solutions at the upcoming 2003 Transportation Security Administration Innovative Technologies in Maritime Security Conference and Exhibition in Charleston, South Carolina, August 4 - 7. The security technologies demonstrated by EMS and its partners align with the Transportation Security Administration's objective of securing our nation's ports. The demonstrations include:
Securing the contents of a container with an RFID-based, security strap solution that includes LXE's rugged wireless computers, EMS SATCOM's PDT-100 packet data terminal, RF Code's RFID tag, Avery Dennison's security strap, and Greenline Systems risk assessment software.
Securing the container as it is being transported overland to/from the terminal using an EMS SATCOM/Insite Consulting vehicle tracking control system that is currently used by the Air Force Space Command.
Securing the container once it has reached the terminal using an RFID tag, risk assessment software, and LXE's wireless network that, when combined, monitors and detects inappropriate movement of the container.
Securing the terminal itself with a wireless, Internet Protocol (IP) security camera system that is used to monitor suspicious activities and detect potential threats. The demonstration includes an EWA (Electronic Warfare Associates) camera system and LXE's ultra-rugged, all-weather MX5 handheld computer that can remotely control the camera and receive incoming video for viewing.
In addition to controlling the security camera, the MX5's imaging capabilities enable container inspectors to scan the barcode on an RFID tag, provide an image of the secured container (or damaged container if appropriate), and have the data wirelessly transmitted to the Tracking Control System for audit, security and documentation purposes.
With these various technologies, carriers will be able to swiftly move cargo through the customs compliance and security screening processes. Improved visibility and risk management will enable transportation providers, port operators and the shippers and consignees they serve to dramatically improve both security and operational efficiency through streamlined processes and improved asset utilization.