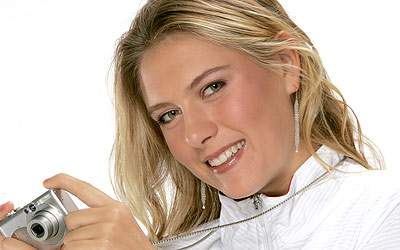 Canon today announced a global marketing relationship with Wimbledon Champion and pop-culture icon Maria Sharapova. The multi-year relationship will include global advertising, retail promotions, and events relating to Canon products, from sleek digital cameras to office products.
Sharapova was sought as a global representative for Canon because of her winning record on the court combined with her style, presence, and elegance off it.
"Maria Sharapova's combination of style and substance is a natural fit for Canon," said Debra Epstein of Canon. "Her powerful game and approachable personality represent a perfect match for the Canon brand, and we are thrilled about the partnership. Canon and Maria Sharapova embody excellence, elegance and a winning team for our company, our retailers, and our global customers."
Canon's six consecutive months as the number one digital camera manufacturer in the U.S., and Sharapova's status as a top female tennis player proved to be perfect timing.
"I really enjoy being ahead of the latest trends in fashion and technology, and I'm excited to be working with Canon," said Sharapova. "Canon products are all about cutting edge technology and fashionable design. Technology plays such a big part in all aspects of my life, and the Canon relationship is a natural one for me. I can't wait to use their products when I'm at home with family, on the road playing tennis, or simply hanging out with my friends."
Sharapova, the world's seventh-ranked tennis player, was one of the youngest champions ever at Wimbledon. She has built a global fan base, captivating all with her style, intelligence, wit and poise beyond her years.