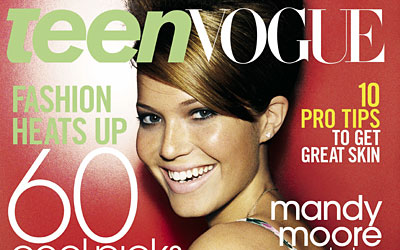 A month before their breakup was reported in the press, twenty-year-old actress Mandy Moore told Teen Vogue that marriage to on-and-off-boyfriend Andy Roddick was not imminent. "My parents got married when they were 21, so I've always wanted to marry young. And it's definitely a fun notion that runs through your head in the beginning, like, Oh my God, this could be it! But there's a lot I want to do before I take the plunge ... The reality is that Andy has a limited time during which he can do his job, and he travels more than I ever would or could. He's on the road from January to November -- who thinks about marrying that?" But that's not to say she didn't admire him. "I like that he's so work-oriented," she said.
What changed? When talking to Teen Vogue senior writer Lauren Waterman she said, "We have fun when we're together, and when we're not we can focus on our separate careers. I feel so fortunate to be in a relationship with someone I care about and would do anything for, who feels the same way. I'm a lucky girl."
Moore also told Teen Vogue that she loves living with her parents, who relocated to LA a few years ago at her request, but are now ready to move out of her house and back to their native Orlando. "I love that my mom makes my bed for me, and cooks, and does my laundry," she said. "I love that when I wake up, they're in the kitchen, reading the paper. I'll never be too old for that." But she did admit that living with her parents was sometimes awkward for her relationship with Roddick. According to Moore, they had privacy during his visits, "but I think it's about time for me to be on my own."
As for her life in the spotlight, Moore says she is troubled by the paparazzi. "I hate it, I hate, I hate it," she said. "It's made me paranoid. And when they're following me, I have no way of knowing if they're paparazzi or psychotic perverts ... It's becoming frightening. It's stalking. I can totally understand why somebody would want to beat them up and break their cameras."
She described a recent evening with Roddick, saying, "He was in town and we were having dinner with friends, and some guy chased us clear out of the restaurant. We sat home for the rest of his stay. He says he doesn't know how I deal with it, and I have to say, I sometimes wonder, Why me? I'm not cool. And I'm not fascinating."
In terms of her career, Moore told Teen Vogue, "I think I need to do a much better job. I'm finished with the 'teen movie.' And I've had fun doing the leading-role thing, but I'm going to step aside for a bit. I'm still an amateur, a rookie, and I really want to learn. If that means taking a supporting role in an ensemble piece or doing indie films or sacrificing a big salary, well, I'm ready to do that."
The May issue of Teen Vogue is on sale in New York and Los Angeles on April 7th and nationwide on April 13th.
Mandy Moore knew she wanted to be a performer from the time she was six years old. At the age of ten, Moore was performing in musical theater and singing the national anthem at local sporting events in her hometown of Orlando, Florida. By fourteen, she had signed with Epic Records and recorded her first album, So Real. Since then, Moore has toured with superstars including the Backstreet Boys and N'Sync. So Real and her follow-up album, I Wanna Be With You have sold nearly three million copies. Best known for her infectious hit single Candy, Mandy's career has diversified into television and film as well. This spring, MTV's Mandy show begins its second season and she will continue to guest-host Total Request Live. In addition, she starred in Garry Marshall's feature film, The Princess Diaries. Moore's passion for recording and performing music has remained paramount in her life and her new highly anticipated album, Mandy Moore will hit stores in mid-June.