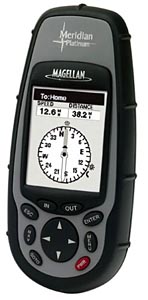 Thales Navigation, a leading global provider of GPS solutions including Magellan and Ashtech product lines, is demonstrating the first production models of its new top-of-the-line Magellan Meridian Platinum handheld GPS receiver at the Consumer Electronics Show. For customers who demand feature-packed navigation products, the Meridian Platinum makes getting lost a rarity whether driving in the city, traveling through the great outdoors, or finding your way on water.
Shipping in February, the Meridian Platinum can guide users to within as little as 3 meters to their destination, all while showing their position on a moving map from its extensive built-in, 16 MB, searchable U.S. street mapping database. It also boasts a three-axis electronic compass to let users more rapidly and accurately identify their position and orientation, and is the first GPS to use the industry standard Secure Digital (SD) format for memory expansion, which enables customers to take more maps, larger maps, and other relevant data with them.
"Meridian Platinum gives our customers the most advanced, yet easy-to-use GPS for fast access to maps of highways, major roads, parks, waterways, airports, cities and more," said Lonnie Arima, Thales Navigation's vice president of worldwide consumer sales and marketing. "In addition, the Platinum's barometer provides customers with weather information, while our three-axis electronic compass gives users the added benefit of knowing which direction to head even while standing still -- and even if the unit is not parallel to the ground."
Customers gain an unprecedented level of functionality with the Meridian Platinum's expandable memory, which allows users to download up to 64 MB of data at a time from Magellan MapSend software containing street mapping, topography and travel data for the U.S., Canada and Europe.
With Meridian Platinum, customers can choose to view their position on seven navigation screens, which are highly visible on the larger-size, grayscale, backlit display. Also, the 12-parallel-channel receiver's quadrifilar helix antenna ensures the best satellite signal reception and fast position fixes, while the use of Wide Area Augmentation System (WAAS) satellite correction signals ensures the most accurate position fixes. Users can also store up to 500 waypoints and 20 reversible routes so they can visit their favorite locations time and time again. The travel-friendly Platinum, which supports nine languages, is pocketsize, weighs eight ounces, and is ergonomically designed with a rugged, slip-resistant and waterproof housing that floats.
To satisfy customers' varying navigation needs, the Magellan Meridian series also includes the Meridian GPS, Meridian Gold and Meridian Marine. Optional accessories include vehicle, bike and swivel mounting brackets, assorted power and data cables and a canvas carrying case. Meridians are also compatible with Magellan MapSend software, including MapSend Streets and Destinations (USA), MapSend Streets Europe and MapSend Topo for the United States.
Thales Navigation is one of the world's leading developers and manufacturers of positioning, navigation, communications and guidance equipment with global operations throughout the U.S. and Europe. Thales Navigation markets its Magellan brand GPS solutions in the consumer electronics, recreation, and automotive markets, and its Ashtech GPS and GPS+GLONASS professional products in the survey, GIS/Mapping, and OEM markets. Through its joint venture with Hertz, Thales Navigation has developed the Hertz NeverLost vehicle navigation system. Thales Navigation's key innovations include the first U.S. commercial hand-held GPS receiver for positioning and navigation, and the first handheld GPS with industry standard Secure Digital Memory Card capabilities.