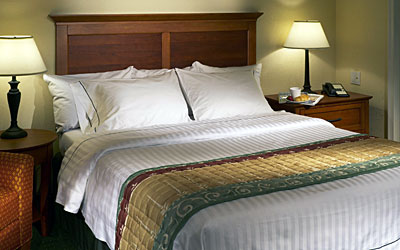 By year-end, 628,000 beds at approximately 2,400 Marriott hotels worldwide (such as in Newport Beach), across eight brands, will have a new, more luxurious look and feel. The global bedding makeover will utilize over 30 million yards of fabric -- enough to stretch more than two-thirds of the way around the world -- creating softer sheets, plusher mattresses, stylish duvets, more pillows -- and a new fresh, white look.
Chairman J.W. Marriott, Jr. said, "Together with our hotel owners and franchisees, we are launching an unprecedented bedding makeover, continuing our invitation to guests to experience the new look and feel of Marriott. This initiative draws on the finest designs and service traditions at our best hotels worldwide to position each of our brands as the most luxurious in their segment. And our new bedding is already getting rave reviews."
The company said its owners and franchisees are investing nearly $190 million in the new bedding. And, to speed the makeover, Marriott is offering owners and franchisees a one-time incentive, to ensure that guests can enjoy the comfort and luxury of the new bedding by year-end.
The company conducted extensive consumer research on the new bedding for all its brands. More than four out of five of the 1,000 guests surveyed preferred the new bedding and said they liked the stylish design and appearance, calling it fresh, inviting and comfortable. They also said the new bedding would increase their preference for a Marriott brand.
The more luxurious bedding is the new brand standard for the JW Marriott Hotels & Resorts, Marriott Hotels & Resorts, Renaissance Hotels & Resorts, Courtyard, Residence Inn, Fairfield Inn, TownePlace Suites and SpringHill Suites brands. As part of the makeover, the company is replacing traditional bedspreads with freshly laundered linens, making Marriott's new bedding the cleanest and freshest of any major hotel chain.
Full-service JW Marriott, Marriott and Renaissance hotels and resorts will replace the traditional bedspread with down comforters nestled inside sheeted duvets. The duvet covers will be freshly laundered for each new guest. The bedding will feature 300-thread-count, cotton-rich, white top and fitted bottom sheets, making them among the finest and softest sheets of any global hotel chain. The new JW Marriott, Marriott and Renaissance bedding will also offer thicker, more comfortable mattresses with the addition of a two- to four-inch mattress topper and more pillows. The stylized bedding will be accented with euroshams, a decorative bed scarf and an optional bolster. This spring, the new Marriott Hotels & Resorts bedding will be available for purchase.
The company's select-service and extended-stay brands will feature comforters snuggly fit between triple sheeting, including 200-thread-count, cotton-rich top and fitted bottom sheets that will be mercerized, a process that elevates the softness of the linens. The bedspread will be replaced by triple sheeting, which is commonly found at luxury hotels and resorts, including a decorative top sheet with colorful trim. All linens will be laundered daily. Comforters will fit neatly between the new triple sheeting. The new bedding also features more pillows, enhancing its home-like appeal. Thicker mattresses will become standardized across these brands. Courtyard hotels outside North America will also feature elements of the upgraded full-service bedding in some markets.
Marriott has more than 2,600 lodging properties in the United States and 64 other countries and territories.