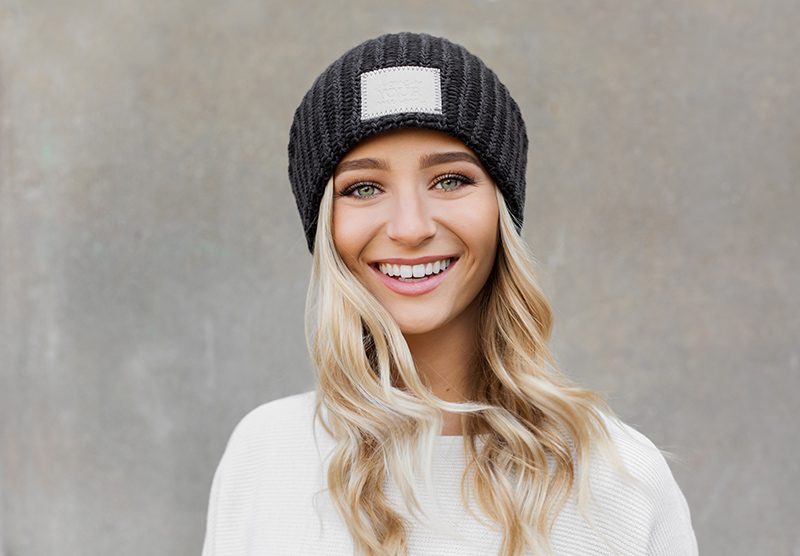 On October 9, 2017, Love Your Melon launched a knit vegan beanie line with an off-white, faux leather patch made in Minneapolis, Minnesota. The new line includes eight different colors of both beanies and cuffed beanies, retailing at $30. No animal products are used in the production of this new vegan beanie line. Similar to all Love Your Melon apparel, 50% of profit from sales of the vegan beanie line is given to Love Your Melon's non-profit partners to help find a cure for pediatric cancer.
"Our product design and manufacturing teams have been working to develop a faux leather patch that our customers have been asking about for a while," says Chloe Cunagin, Love Your Melon's Merchandise Director. "We're proud to include this new vegan option in our line-up of American-manufactured products and are proud to launch this option just in time for beanie season."
Love Your Melon is an apparel brand dedicated to giving a hat to every child battling cancer in America as well as supporting nonprofit organizations who lead the fight against pediatric cancer. Zachary Quinn and Brian Keller founded the company in 2012 while the two were sophomores in college. To date, over 110,000 beanies have been given and more than $2.6 million has been given to fund cancer research initiatives. Fifty percent (50%) of profit from the sale of all Love Your Melon products is given to Love Your Melon's nonprofit partners in the fight against pediatric cancer.
Shop on loveyourmelon.com