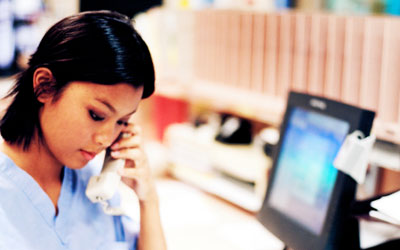 Redfone Communications has made available a new telephone system for firms with aging PBXs to connect remote branch offices, call centers, remote agents, mobile employees and remote sales and service operations.
Redfone's new Enterprise Communication System (ECS) is highly scaleable, and available to firms ranging in size from two dozen employees to several hundred.
System affordability derives from open source Linux operating system, open-source PBX software, off-the-shelf hardware and commonly available telephony components connected to the company network.
Savings in operating costs arise from using advanced Voice over Internet Protocol (VoIP) to eliminate long distance tolls for intra-company calls among domestic or international locations.
Productivity improvements are achieved by converged communications media -- telephone, cellular, fax, e-mail, voicemail and instant messaging -- with real time company data on employees' computers. Voicemail messages and faxes are sent to the company's network as email attachments, and are accessible via wireless devices, PDAs, laptops and desktops from anywhere in the world.
Remote sales and customer service offices, distributed call centers, work- at-home employees, and mobile executives anywhere in the world are interconnected to the business via the Internet by the new Redfone ECS. Banks, law offices, insurance companies, sales organizations, telemarketing agencies -- any small- to mid-size business with local, regional, national or global operations can benefit from the new system, as can any business constrained by an outdated legacy phone system. Redfone's new ECS provides modern, state-of-the-art communications and scalability for high-growth organizations.
Extensive call center functions are integral components of the Redfone ECS. These functions are designed specifically for improving the productivity of agents working in your office or at home. Use of advanced technologies, such as interactive voice response, automated call distribution, queue administration and agent monitoring, can improve customer service.
The ECS will accommodate a variety of commonly available telephone devices such as headsets, PC-based softphones, IP phones and programmable-screen telephone desksets. The desksets feature large, easy-to-read backlit displays of eight lines apiece and six soft-programmable function keys. You can place calls without lifting the handset from its cradle and return calls directly from a call log. There's a ten-number redial memory, a goodbye release key and a speakerphone function with mute feature.
Features include:
Caller ID
Caller ID blocking
Call waiting
Caller ID on call waiting
Call forward on busy
Call forward no answer
Do not disturb
Call transfer
Call parking
Call retrieval
Music on hold
Music on transfer
E-mail notification of voicemail
Voicemail forwarding
Web interface to voicemail
Separate away and unavailable messages
Multiple mail folders
Visual message-waiting indicator
Automated attendant
MS Outlook dialing
Conference calling
Directory listing
Local/remote call agents
Call detail records
Redfone Communications is a value-added reseller of the widely popular ASTERISK IP-PBX telephone system.