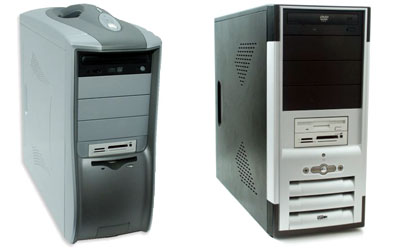 CPUBuilders by Stratitec today announced the availability of two new higher end Linux PCs with a street price of less than $600. The new systems were added in response to increasing customer demand to expand their current line with features appealing to consumers and businesses needing higher performance features. The award winning CPUBuilders Linux for Everyone OS powers these systems, as well as all CPUBuilders Linux PCs. CPUBuilders currently develops and markets eight different systems ranging in street price points from $199.99 - $597.68.
"We stepped up and added two higher end systems to meet the frequent requests and needs of our growing customer base. Our award-winning OS is the foundation of these higher performance systems and is great for business and home users coming off of a Windows-only experience," said Robert Barger, President of CPUBuilders. "Feedback from our customers is very positive and what we have heard is that many previous Windows-only users enjoy the benefits and cost savings of our CPUBuilders Linux systems. We are committed to providing our customers with the value, performance and solutions they're looking for. Based on our success and growth this has been a fantastic strategy for us."
Each system is pre-installed with CPUBuilders Linux for Everyone OS - designed to make the Windows-to-Linux migration easier - and bundled with a complete software application suite. These, and all CPUBuilders models, also ship with the CPUBuilders Cognitio control panel, which facilitates installing new software and adding new hardware, including plug-and-play devices, CD writers, hard drives, scanners and USB storage. Cognitio also includes an easy-to-use OS and application software update system. An account to use the Cognitio update system is included with each CPUBuilders computer system and allows easy one-click online updates to the Linux For Everyone OS and updates for the hundreds of pre-installed applications that come with each system and provides access to brand-new software releases.
CPUBuilders makes it possible for more small to mid-sized businesses, start-ups, families and individuals to easily afford a reliable, fully functional PC, backed by a full year of support after purchase.
Model #CBS528L
$607.99 retail / $472.36 street AMD Athlon XP 2700+ with QuantiSpeed Architecture
ATX motherboard with SiS 746 chipset
Memory: 256MB PC2700 333 MHz DDR, expandable to 2GB
Hard Drive: 80 GB Ultra ATA-100 (Installed operating system and extensive software suite use approximately 6GB)
3.5" High Density floppy disk drive
CDRW/DVD combo drive
Audio: Integrated high-quality stereo sound adapter
Graphics: GeForce 4 MX440 64 MB AGP video card
Network: Integrated 10/100 Fast Ethernet connection
4 rear high-speed USB 2.0 ports
USB 6 in 1 Internal Card reader with the following flash memory formats: Compact Flash (CF); MicroDrive (CF Type 2 - Shares slot with CF); Smart Media (SM); MultiMedia Card (MMC - Shares slot with SD); Secure Digital (SD); Memory Stick (MS)
Model #CBS558L
$765.99 retail / $597.68 street Processor: AMD Athlon XP 3000+ with QuantiSpeed Architecture
ATX motherboard with SiS 746 chipset
Memory: 512MB PC2700 333 MHz DDR, expandable to 2GB
Hard Drive: 80 GB Ultra ATA-100 (Installed operating system and extensive software suite use approximately 6GB)
3.5" High Density floppy disk drive
CDRW/DVD combo drive
Audio: Integrated high-quality stereo sound adapter
Graphics: GeForce 4 MX440 64 MB AGP video card
Network: Integrated 10/100 Fast Ethernet connection
4 rear high-speed USB 2.0 ports
USB 6 in 1 Internal Card reader with the following flash memory formats: Compact Flash (CF); MicroDrive (CF Type 2 - Shares slot with CF); Smart Media (SM); MultiMedia Card (MMC - Shares slot with SD); Secure Digital (SD); Memory Stick (MS)