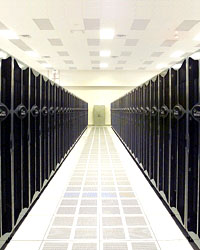 Linux Networx announced today it has two systems ranked within the 10 fastest supercomputers in the world according to the Top500 list. Lightning, the system Linux Networx built and delivered to Los Alamos National Laboratory, ranks as the sixth fastest supercomputer in the world capable of performing 8.05 trillion operations per second (teraflops).
Ranked seventh on the top 10 is MCR, a 7.63 teraflops cluster Linux Networx built for Lawrence Livermore National Laboratory last year that includes 2,304 Intel Xeon processors. MCR is considered a landmark system as it was the first Linux cluster to break into the Top500 list's top five fastest supercomputers in 2002.
"Linux Networx met all of our delivery requirements for Lightning, including pre- and post-delivery testing and machine stabilization that permitted us to achieve 72 percent efficiency running Linpack for more than 10 hours across nearly the entire machine," said Manuel Vigil, Lightning project leader in Los Alamos' Computing, Communications and Networking Division. "We appreciate the timeliness of their effort to get a working Linux supercomputer cluster on the floor. Lightning currently is meeting all of our acceptance criteria and we look forward to using it for valuable national security work."
Lightning is the largest AMD Opteron system built this year with 2,816 Opteron processors. Lightning also includes 1,408 Evolocity compute nodes, LinuxBIOS and the ICE Box management appliance from Linux Networx that helps manage the entire cluster.
Beyond building systems with impressive speed-per-second performance, Linux Networx builds all its systems to deliver maximum sustained performance and high return on investment to customers. Linux Networx is able to deliver highly productive cluster systems through its rigorous Q/A, integration and installation processes, detailed system engineering and total cluster management.
"The real test of a supercomputer's performance capabilities is the production of the system. By delivering systems for maximum sustained performance, we are allowing organizations to run more jobs on their cluster, thereby maximizing their clustering investment," said Dean Hutchings, COO of Linux Networx.