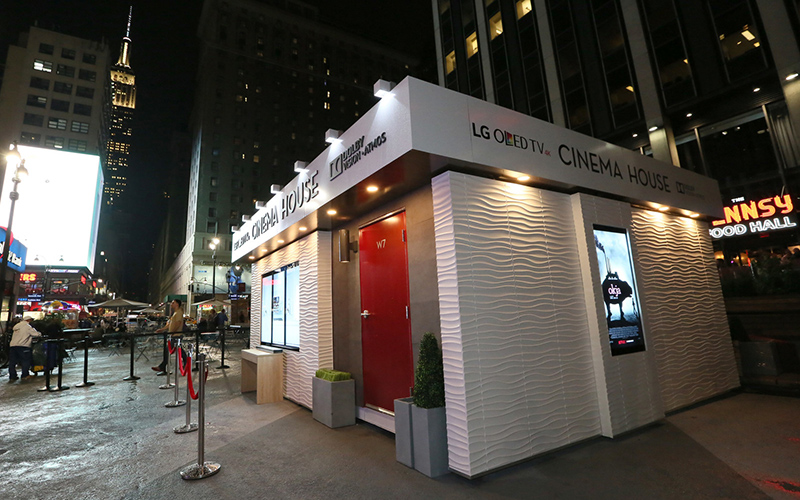 An organic light-emitting diode (OLED) is a light-emitting diode (LED) in which the emissive electroluminescent layer is a film of organic compound that emits light in response to an electric current. An OLED display works without a backlight; thus, it can display deep black levels and can be thinner and lighter than a liquid crystal display (LCD).
4K resolution, also called 4K, refers to a horizontal resolution in the order of 4,000 pixels. Several 4K resolutions exist in the fields of digital television and digital cinematography. By 2025, more than half of U.S. households are expected to have a 4K-capable TV (2160p).
High dynamic range (HDR) is a dynamic range higher than what is considered to be standard dynamic range. The term is often used in discussing displays, photography, 3D rendering, and sound recording including digital imaging and digital audio production.
Dolby Atmos is the name of a surround sound technology that allows up to 128 audio tracks plus associated spatial audio description metadata (most notably, location or pan automation data) to be distributed to theaters for optimal, dynamic rendering to loudspeakers based on the theater capabilities. Each audio track can be assigned to an audio channel, the traditional format for distribution, or to an audio object.
On October 12, 2017, LG launched the LG OLED TV Cinema House powered by Dolby Vision and Dolby Atmos, an immersive consumer experience featuring the superior audio-visual performance of LG OLED 4K TVs with Dolby Vision high dynamic range (HDR) and Dolby Atmos advanced audio technologies.
Serious TV watchers visiting the Cinema House from coast to coast this fall will have the opportunity to view 4K Ultra HD clips from popular Netflix originals including Marvel's The Defenders, Okja and an exclusive, never-before-seen clip from the first episode of the highly-anticipated Netflix hit series, Stranger Things 2, which launches on October 27.
Representing the future of home entertainment, the LG OLED TV Cinema House powered by Dolby is an exclusive experience that transports consumers into some of the world's most popular TV series on the LG SIGNATURE OLED TV W, also known as Wallpaper TV. Hailed by experts as the best TV technology available, LG OLED achieves perfect black, infinite contrast and over one billion vibrant colors to offer precise detail and overall rich image quality that transforms the living room into a true home theater.
In addition to the razor-thin Picture-on-Wall LG SIGNATURE OLED TV W series featured in the Cinema House, the comprehensive family of LG OLED 4K UHD TVs includes the sleek Picture-on-Glass LG SIGNATURE OLED G7 and LG OLED E7 series, and blade-slim LG OLED C7 and LG OLED B7 series. The 10 models, available now in 77-, 65- and 55-inch class sizes, feature Dolby Vision and Dolby Atmos technologies, further enhancing the home theater experience that only LG OLED display technology can deliver. All LG OLED TV models also feature the latest generation of the acclaimed LG webOS Smart TV platform, which makes finding and switching between limitless content options – broadcast TV, streaming services and a growing library of 4K and HDR programming – simple and fast.
This fall, the LG OLED TV Cinema House powered by Dolby will be making stops across the country including:
Oct 11-12: New York, NY Plaza33 near Madison Square Garden
Oct 19-21: Los Angeles, CA Dolby Theater at Hollywood & Highland
Oct 28-29: Lawndale, CA Video and Audio Center
Nov 11-12: Glenview, IL Abt Electronics Retail Store
Nov 18: Bellmore, NY P.C. Richard & Son