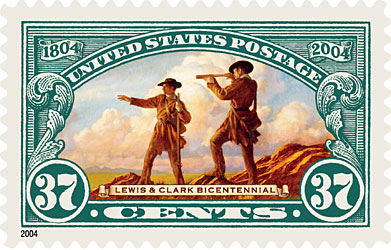 Meriwether Lewis and William Clark, the leaders of the 1804-1806 Lewis and Clark expedition, will be honored May 14 when the U.S. Postal Service issues three commemorative postage stamps honoring each adventurer and their joint command to map and explore the lands west of the Mississippi.
The official first day of issue ceremony for the Lewis and Clark stamps will take place at each of eleven sites along the route of the Lewis and Clark expedition.
May 14 marks the bicentennial of what became known as the Corps of Discovery -- an expedition from the mouth of the Missouri River near St. Louis to the Pacific Ocean and back. President Thomas Jefferson instructed Lewis and Clark to follow the Missouri and Columbia Rivers, and locate, if it existed, the elusive Northwest Passage.
"The Lewis and Clark expedition was a daring effort to chart the new territory of the United States -- the Louisiana Purchase," said Patrick R. Donahoe, Chief Operating Officer and Executive Vice President, U.S. Postal Service, who will dedicate the stamps in Hartford, IL. "And it is today one of America's greatest stories of adventure. The Postal Service takes great pride in sharing the often-epic, often-inspiring history of our great land, through postage stamps."
To commemorate the bicentennial of the official launch of the Lewis and Clark expedition, the U.S. Postal Service will issue three 37-cent self-adhesive stamps. One stamp features an image of the two valiant leaders of the expedition standing on a promontory surveying the countryside, available in a pane of twenty stamps. The two additional stamps feature individual portraits of Meriwether Lewis and William Clark painted by Michael J. Deas in a style reminiscent of early 19th-century portraits of the two explorers. Ten each of these stamp portraits are included in a special 32-page prestige booklet entitled "Lewis & Clark: The Corps of Discovery, 1804-1806," available for $8.95. In addition to the stamps, the booklet contains informative text, historic illustrations and scenic photographs. Ron Fisher, a Lewis & Clark enthusiast who visited many of the expedition's sites and first wrote about the Corps of Discovery in 1970, wrote the text.