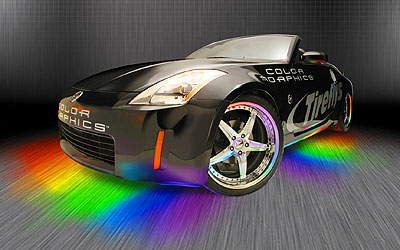 With innovative LED technology, dazzling displays of colors and remote-controlled programmable chases, animation and combinations, Tireflys new ColorMorphics digital car lighting system is destined to be the talk of the SEMA Show.
Tireflys, the leader in creative automotive lighting, will introduce ColorMorphics at the SEMA Show in Las Vegas. The kit, which includes the central processing unit (CPU), cable connectors, easy-to-use wireless remote control and two one-foot Morph Sticks, will retail from $199. Additional Morph Sticks, which quickly install with a unique clipping system, will retail for $59.95. It can also be used to highlight a car's interior. ColorMorphics will be in stores by late January 2004. By early spring, Tireflys will offer the expandability of plug-in modules. A video interface module and SD ram slot module will allow the exchange of custom programs through the Internet.
Tireflys licensed Color Kinetics' patented Chromacore technology to produce ColorMorphics. Chromacore is a pioneering technology that applies microprocessor-controlled, multicolored, high-brightness LEDs to generate 16.7 million rich, saturated colors and color-changing effects without the fragility constraints of neon.
"ColorMorphics offers unlimited versatility and the visual excitement of full spectrum color and stunning effects," says Tireflys Co-founder Daniel Deutsch. "With rugged design and 100,000 hour LED life rating, the system is designed to be virtually maintenance free."
Color Kinetics is the pioneer of intelligent solid-state illumination technologies. The company designs, manufactures and markets an award-winning line of products that apply the practical and aesthetic benefits of LEDs to transcend the limits of traditional light sources for use in professional, consumer, and OEM and licensing applications. Its flagship line of technologies leverage a patented layer of digital intelligence, called Chromacore, to generate and control millions of colors and dynamic lighting effects. Color Kinetics leads the industry in solid-state lighting innovation, including the custom engineered Chromasic microchip, and holds a growing patent portfolio encompassing a number of emerging digital technologies.