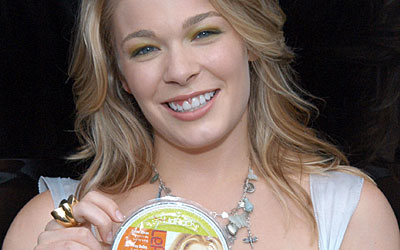 Blimpie restaurants across the U.S. are offering the first country music Lidrock on a full-size, enhanced CD with exclusive new music from two-time Grammy-Award winning superstar LeAnn Rimes. Blimpie will provide fans with a sneak peek at LeAnn's new album This Woman due out in stores November 2. This will be LeAnn's twelfth album after debuting with Blue in 1996. "The Lidrock at Blimpie offers a great new way for my fans to get a sample of my new CD before it hits stores," explains LeAnn. Consumers can catch an early glimpse of her new album, This Woman, with the purchase of a Lidrock CD that includes the hot new single Won't Be Lonely Long.
This 5 inch CD is playable in your car CD player, home stereo and your computer. The Lidrock will also include tracks from two additional emerging country music sensations from Curb Records, Amy Dalley and Rodney Atkins. The featured bonus music video is Amy Dalley's debut Men Don't Change, which has made a huge splash and is in the top 30 on the Billboard country singles chart, and is still climbing. Dalley's hot debut album, Amy Dalley, will hit stores nationwide October 19th, but consumers can hear it first exclusively on the debut country Lidrock at Blimpie. Rodney Atkins' Someone to Share it With, straight from his recent debut album Honesty, will also be a featured track on the Lidrock.
"We are excited about the release of LeAnn's sneak preview, Lidrock CD through our Blimpie restaurants," said Mark Mears, Chief Marketing Officer of Blimpie International, Inc. "We are confident that the availability of LeAnn's Lidrock CD will follow the success of our previous two releases in driving brand new guests to our restaurants and enhance the dining experience of our current Blimpie fans."
The fresh LeAnn Rimes country Lidrocks will be sold for about a dollar more with the purchase of a fountain beverage and are available while supplies last at thousands of participating Blimpie restaurants throughout the U.S.
Blimpie is a global franchisor of several branded quick-service concepts. The company's core brand, Blimpie Subs and Salads, has grown to approximately 1,600 franchised restaurants across the U.S. and 13 foreign countries.