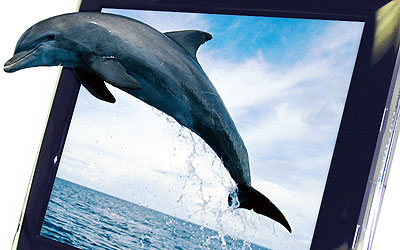 StereoGraphics has added to its line of glasses-free 3D monitors the SynthaGram 204 Desktop LCD. The SynthaGram is a glasses-free LCD 3D monitor that creates extremely crisp, bright and wide-angle still and moving images that rivet viewer's attention.
"The best glasses-free 3D product we have ever tested," said Chris Ward, President of Lightspeed Design Group, a professional visual communications company experienced in 3D design. "The 3D appearance and contrast are excellent, and very effective in catching the eye. The 2D content is also very good. We are very enthusiastic."
This mid-range monitor with high resolution (1600 x 1200). It can be used for both desktop and countertop displays such as advertising, retail point of purchase and tradeshow displays.
The 3D LCD has a new stylistic design and takes advantage of new advances in glasses-free 3D technology to create even brighter and more realistic 3D images than ever before. In addition, the SynthaGram 204 can automatically transition between DVD-quality 2D and 3D.
The SynthaGram 204 is currently available for manufacturer's suggested retail price of $4,764.
StereoGraphics' CrystalEyes shuttering eyewear and Monitor ZScreen products are the industry leading stereo viewing products for professionals. The SynthaGram monitor, with its ultra bright image and wide viewing angles, is now setting the new standard for Glasses-Free 3D.