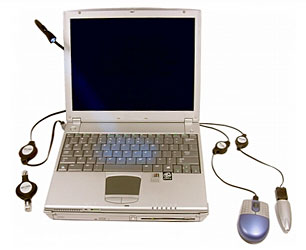 ZIP-LINQ announced today the retail launch of the laptop travel kit at the Consumer Electronic Show in Las Vegas. The laptop travel kit includes a USB power notebook light, a USB super mini optical mouse, and our patented retractable cables.
"We are pleased to add to our ZIP-LINQ product line for the mobile professional," said Ben Hunter, President of ZIP-LINQ. "The Road Warrior Kit is a complete one-stop connectivity solution for your laptop while traveling."
The laptop travel kit includes a flexible USB Power Notebook Light and a USB Super Mini Optical Mouse. The Power Notebook Light draws power from your laptop, illuminating the keyboard. Batteries are NOT even required. The Super Mini Optical Mouse is small enough for easy portability, yet big enough to feel comfortable in your hand. Its optical technology provides precise tracking on any surface.
The Road Warrior kit also includes ZIP-LINQ's Retractable Cable design, which enables all connections to expand and retract from 4 inches up to 4 feet in length. The kit includes:
A Mini USB retractable cable, perfect to use with digital cameras, MP3 players, PDAs and other USB 1.1 devices, which have a 5-pin mini USB connector.
A USB A-A retractable cable; easily extends the distance between your computer and a USB 1.1 device.
An RJ45 Cat5 Networking retractable cable, which connects your computer to a network or to another computer and a RJ12 Phone & Modem retractable cable to connect your computer to a telephone jack when on the road.
The ZIP-LINQ family of products can be found at retail outlets such as: Staples, CompUSA, Fry's, Tiger Direct, PC Mall, etc. The laptop travel kit has a suggested retail value of $59.99.