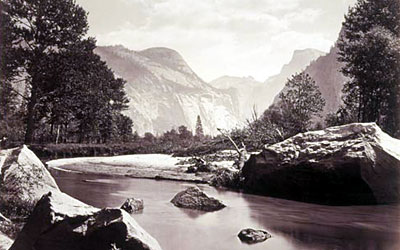 Beginning in the 1840s, photographers photographed the American landscape for a public that was not inclined to travel long distances because of the expense and inconvenience involved. Photographs include views of natural sites in the eastern regions of the country such as Niagara Falls and the Susquehanna River, as well as battlefields of the Civil War. They also include views of the dramatic terrain of the American West, including California's Yosemite Valley and Colorado's Snowy Range, as photographers participated in survey expeditions sponsored by the government or private enterprises for which photographs provided a visual record.
Loaded down with cumbersome, large-format cameras, heavy glass plates, and delicate bottles filled with chemicals like silver nitrate, 19th-century photographers braved many hardships and dangers as they crossed the country by horse-drawn wagon. Prior to the 1880s, photographers were required to prepare each negative before exposure, then develop and fix it immediately, while the chemicals on the glass plate were still damp. Tents or their wagons served as portable darkrooms for this on-site processing.
Enlarging photographs was not common during the 1800s. Instead, photographers made prints by placing the negative directly in contact with the photographic paper. The finished photograph was as large as the negative. All of the photographs in the exhibition are contact prints. Many of them are quite large.
Several of the great figures of 19th-century American landscape photography are included in this exhibition including Timothy O'Sullivan, who joined the Clarence King expeditions of 1867-1869 to photograph western Nevada, eastern California, Idaho, Utah, and southern Wyoming; then later joined First Lieutenant George M. Wheeler's expeditions of 1871, 1873, and 1874 to Arizona, New Mexico, Nevada, Utah, and California. Also included are the photographs of William Henry Jackson who joined Ferdinand Hayden on expeditions, including a famous trip in 1871 to the Yellowstone region.
From Cumberland, Maryland, to Cape Horn, Oregon, Eloquent Vistas: The Art of 19th-Century American Landscape Photography from the George Eastman House Collection provides some of the first photographic portraits of the United States of America. The exhibition, organized by the George Eastman House International Museum of Photography and Film, Rochester, NY, is on view at Carnegie Museum of Art from February 21 through May 9, 2004.
Photo: Eadweard Muybridge, American (1830-1904) - The Domes from Merced River, Yosemite Valley, c. 1874, albumen print, George Eastman House