The all-new Land Rover LR2 delivers outstanding on-road performance and class-leading off-road ability. It has a dynamic design, smart and spacious interior, and advanced technologies.
"LR2 combines the advantages of a premium sedan -- such as polished ride, accomplished performance, an attractive cabin and ease-of-use -- with the attributes of a robust SUV, including go-anywhere ability, toughness, stadium seating, cabin versatility and spaciousness," said Phil Popham.
A 230 bhp transversely mounted 3.2-liter inline-six engine features advanced technologies to deliver a combination of performance and economy.
The engine is matched to a new six-speed automatic transmission, with manual sequential gear changes.
The exterior and interior design of LR2 is completely fresh, integrating the company's unique design language with a form that is instantly recognizable as the latest Land Rover.
"We kept strong Land Rover design cues, such as the clamshell bonnet, stepped roof and the basic form," said Geoff UpexLand. "The look is new and contemporary. The design is chiseled, geometric, and simple."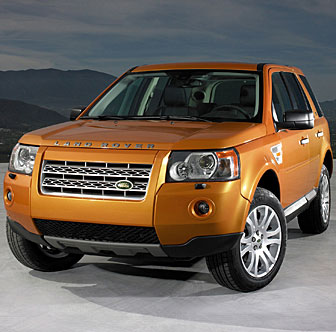 The body is a five-door monocoque structure, with a high level of torsional rigidity which benefits refinement, comfort and handling on-road as well as ensuring the vehicle is fit for serious off-road use. The suspension is fully independent and uses a stability control system that helps mitigate the risk of roll-over even in extreme conditions.
LR2 employs technologies to improve both on-road and off-road performance. Land Rover's unique Terrain Response is standard, making off-road use easier. A new intelligent permanent all-wheel-drive system gives for superior traction and better on-road fuel economy, and the Gradient Release Control improves driver confidence and control when releasing the brakes on steep and slippery slopes.