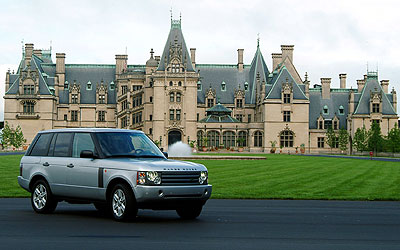 Land Rover North America today announced the opening of an all-new driving school at Biltmore Estate in Asheville, North Carolina. It will be part of the estate's outdoor programs offered through Explore Biltmore Estate and will be open to guests of the 213-room luxury hotel property -- Inn on Biltmore Estate as well as the estate's daytime visitors. The 8,000-acre property is the historic home of George W. Vanderbilt with Biltmore House, the largest privately owned home in the country, as its centerpiece.
"Locating on the grounds of Biltmore Estate makes perfect sense. The estate's combination of old world charm and modern luxury perfectly complements the essence of what we build into every Land Rover," said Richard Beattie, executive vice president, Land Rover North America. "The estate has retained its turn of the 19th century elegance and yet has managed to move into the 21st century with ease."
The program will join already-established programs at The Greenbrier Resort in White Sulphur Springs, West Virginia, and the Fairmont Le Chateau Montebello, near Montreal, Canada.
It will offer guests the opportunity to improve off-road driving skills with one-on-one instruction provided by Land Rover certified driving instructors, skills that are useful in day-to-day driving.
Individual and group courses range from a one-hour session designed to introduce the concept of off-road driving techniques in a fun environment, to half-day and full-day programs with professional instruction by a cadre of the knowledgeable and experienced off-road Land Rover-trained driving instructors.
"A wonderful fit for us at Biltmore Estate," said CEO and President William A. V. Cecil Jr., Vanderbilt's great-grandson. "In the early 1900s, my great-grandfather offered his guests every opportunity to experience the beauty of the mountains he chose to be his primary home. Whether walking, biking, horseback riding or eventually driving early motor cars, he and his guests spent a great deal of time outdoors. We're delighted to be able to offer our modern guests an experience that I think Mr. Vanderbilt would have greatly enjoyed himself."
In addition to Biltmore House and Biltmore Estate Winery, the property offers extensive gardens landscaped by Frederick Law Olmsted; the Historic Horse Barn, where the agricultural side of the estate is interpreted; and the Explore Biltmore Estate outdoor program offering hiking, carriage rides, fly-fishing, calm water rafting, biking, horseback riding and other seasonal activities.