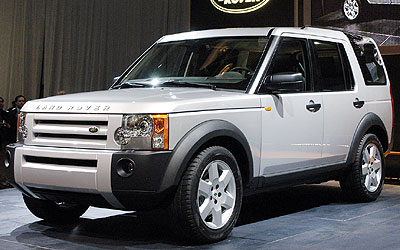 Land Rover introduces LR3, an all-new SUV that makes its debut at the New York International Auto Show. With its class-leading breadth of capability, innovative user-friendly technology, and new levels of interior space, the Land Rover LR3 is set to offer the ultimate premium sport-utility package.
"A true Land Rover, the LR3 benefits from a clarity of purpose and conviction that is evident from the clean design to the versatility and outstanding driving experience. Like all new Land Rovers, it's always great to drive on-road, as well as being best-in-class off-road," said Matthew Taylor, managing director, Land Rover.
LR3 is a new vehicle in every way. Developed by and for Land Rover, it is a modern architecture that is designed to offer excellent on-pavement behavior while upholding Land Rover's rigorous off-road standards. Building on the philosophy established by Range Rover, it introduces a breadth of capability and a level of luxury that sets a new standard for the category.
Power is from a Jaguar-sourced 4.4-litre 300bhp (SAE) V8 - tailored to meet Land Rover requirements particularly for off-road usage - a six-speed intelligent shifting automatic gearbox, permanent four-wheel drive, fully independent electronic air suspension and seating for up to seven adult-sized passengers.
The Land Rover LR3 continues the brand's tradition of introducing class-leading technologies, the most significant of which is Terrain Response. This new and patented system allows drivers to maximize the capability built into their vehicle; the driver simply selects one of five terrain settings via a rotary switch, and the vehicle's electronic controls and traction systems are optimized for that surface.
Other innovative user-friendly technologies include DVD navigation and adaptive headlights that swivel with the direction of travel to illuminate the road ahead.
From a styling standpoint, LR3 projects a modern image, while incorporating hallmark Land Rover design cues, such as short overhangs and bold lines. Family lineage is apparent in the Range Rover-like front-end treatment, and a power-vent adds a functional yet finished accent to the profile.
The vehicle is optimized for passenger enjoyment. A class-leading roof design features three sunroofs overhead, allowing the environment to surround the cabin and compliment the spacious greenhouse.
Comfortable seating in all three rows, available in-vehicle entertainment and the fold-flat seats all contribute to packaging that allows LR3 to appeal to a broad-base of customers.
As with Range Rover, cargo access is through a split-tailgate. For LR3, Land Rover has developed an asymmetrical gate, easing access to the cargo area.
Large passenger doors provide easy access, with both second and third rows entered from the center doors.
"LR3 is a Land Rover designed to fulfill the needs of the North American consumer, " says Mike O'Driscoll, president, Aston Martin Jaguar Land Rover, North America. "It blends innovative technology and refinement with traditional Land Rover strengths to rewrite the definition of a modern, premium SUV."
The all-new Land Rover LR3 will go on sale later this year.