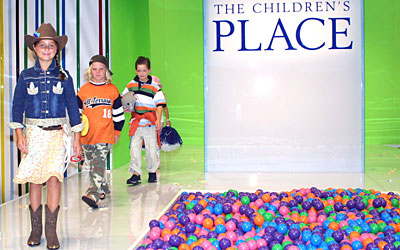 The Children's Place presented their Spring 2005 Collection with 33 young models -- 10 boys, 20 girls, and 3 babies -- all in the must-have looks for next season. Many of the fashions mirror those seen on this week's grown up runways, including soft palettes of oranges and greens for girls and a mix of playful preppie and sophisticated sporty for boys, proving that you are never too young to be in style.
Held at the popular Chelsea Piers Bowling Center, the show had all the excitement and buzz of a grown up fashion show. The runway featured a carnival-like ball pit with brightly colored balls of green, orange, yellow, and blue all accenting the center of the runway. Kids hit the catwalk while holding fun accessories like balloon bouquets, skateboards, and boom boxes, while fashionistas, journalists, and photographers looked on.
Randy Smith, celebrity stylist to stars such as Justin Timberlake and Tara Reid, styled the looks for the show, presented in eight sections: Fabulous Floral (a burst of springtime fashions for girls in bright oranges and greens), Skater Boy (a mix of playground and preppie fashions for boys), Denim Divas (every girl's favorite fabric done with playful accents of color), Sport The Bling (sport-inspired fashions for him and her), All Together Now (bright plaids for the whole family in light blue and pastel yellow), Pretty in Pink (delicate dresses mixed with playful polka-dot designs for her), Dapper and Dressy (stripes for him and florals for her that are perfect for spring holidays), and The Icing on The Cake (seersucker for him and floating petal dresses for her). The show-stopping finale was a beautiful and delicate white flower girl dress, a playful take on the traditional bridal look that concludes many fashion shows.
All of the fashions from this season's show will be in store at The Children's Place locations around the country starting in early 2005.