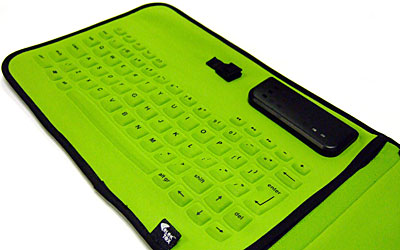 Eleksen is working with Microsoft to deliver a range of ElekTex-based interfaces for new Ultra-Mobile PCs. The new peripherals designs include Eleksen's Bluetooth fabric keyboard and its new USB keyboard. Additionally, Eleksen will unveil a carrying case with an integrated keyboard and a range of designs that go beyond traditional functions to provide rich multimedia controls operated from the case cover itself. The designs include a variety of sensor layouts and control electronics that can easily be integrated into products.
ElekTex gives OEMs a highly innovative interface technology, which supports their needs to develop dynamic and feature rich peripherals for this new mobile computing platform. The designs illustrate how textile interfaces can be integrated into some of the most common accessories and peripherals to extend the ease-of-use and enhance the mobility of these devices creating a new type of peripheral that complements the portability of Ultra-Mobile PCs. With ElekTex, interfaces can be developed into standalone accessories or can be built into protective cases and covers for Ultra-Mobile computing devices.
"The opportunity to offer solutions for peripherals design and development for the new Ultra-Mobile PC is an unprecedented opportunity for us to participate in the birth of an entirely new breed of computing and entertainment devices," said Eleksen CEO Robin Shephard.
"ElekTex smart fabric interfaces offer capabilities that are well matched to complement the functionality and portability of new Ultra-Mobile PCs," said said Otto Berkes of Microsoft.
Working with ElekTex, OEMs can integrate interface interactions ranging from simple keyboard button functions to navigation scroll controls and even multimedia gesture controls into fabric-based products. OEMs can further build on these features and exploit ElekTex's core capability to be programmed and reconfigured by PC applications that can change the interface's design and function on-the-fly. A single interface that doubles as a keyboard and media player controller is both compact and lightweight.