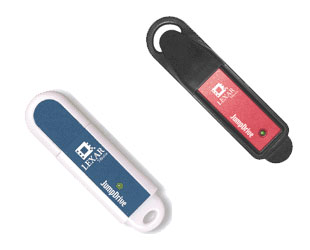 Lexar Media today unveiled Jump Drive Sport and Jump Drive Elite, two of the company's latest USB flash drives. Both feature USB 2.0, for high-speed file transfers, capacities of 128MB, 256MB and 512MB, and unique industrial designs that offer style and functionality. Jump Drive Sport and Jump Drive Elite are extremely small and able to fit easily into most USB hubs and USB ports found on notebook computers. Both flash drives include a writable area on the back of the drive to record its contents to aid in file organization.
Jump Drive Sport features a patent-pending rubber cap that wraps securely around the entire flash drive, making it more impact-resistant and protecting the cap from accidental loss. The cap design also allows the flash drive to be securely attached to a keychain or backpack while the drive itself can be easily removed for use. Because of its ruggedness and cap design, Jump Drive Sport is ideal for active users like students, outdoor enthusiasts, and any mobile computer user who requires the ultimate in durability in a portable drive.
Jump Drive Elite features an elegant pearl white shell and a snap-on cap that is able to attach to both ends of the drive to prevent its misplacement during use. The smart design and USB 2.0 transfer speed of Jump Drive Elite make the flash drive ideal for business executives and fashion conscious consumers.
"Jump Drives are an ideal storage accessory for business executives and travelers," said Dave Klenske, Lexar Media, Director of Product Marketing. "A traveling executive can put all of the information they may need on the drive and have it available, from any computer, at a moment's notice."