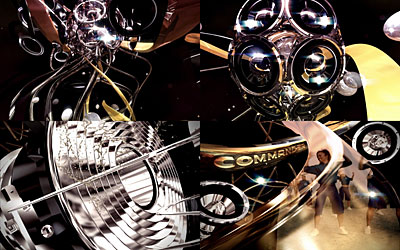 MAkinE Studios created a super-charged commercial spot to introduce Jeep's highly-anticipated Jeep Commander 2006, which hit show rooms earlier this month. The design-driven spot wraps the power and dynamism of Jeep's latest offering in the rhythm and pace of a cutting-edge music video.
Working in conjunction with Global Hue in Michigan, MAkinE developed compelling and unique imagery. The visual journey begins by presenting the car in a clean negative space, from which the viewer is taken on a high-speed ride through a chrome-plated world of blue-hooded Jeep characters and reflective metal arrows. The final destination is a sleek urban landscape that is evocative of the power and luxury of the new vehicle.
The MAkinE design team communicated the powerful, sleek design of the new Jeep Commander. By integrating chrome CGI renderings of the truck with urban icons, the MAkinE team achieved a bold composition, featuring stunning imagery. The look and feel of the spot is that of a cutting-edge music video.
"The sophisticated design of the vehicle, combined with the mesmerizing rhythm of Missy Elliott's brilliant score, provided all the inspiration we needed for this spot," said Eduardo Garcia of MAkinE. "The pace of the imagery and the beat of the music combine communicate the powerful, sleek design of the Commander 06."
"The genius of the spots is that they provide a beautiful showcase for the new truck and the Jeep brand, while communicating an energy and visual language that we believe people will find interesting and cool," said Fran Westbrooks of Global Hue.
The commercial was first aired on Fuse and MTV, and was aired during the VMAs. Originally designed as a teaser, the spots were selected by Jeep to be the primary on-air promotional spot for audiences nationwide.