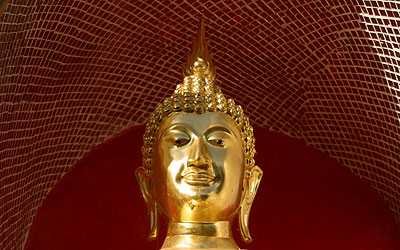 The International Buddhist Film Festival (IBFF) debuts at Los Angeles County Museum of Art (LACMA) November 20-23, 2003, beginning with a gala benefit screening and reception Thursday evening, November 20th. IBFF's four-day cultural event, the first of its kind in the world, will screen twenty films -- both juried and invitational selections -- culled from several hundred entries from around the globe, including shorts, documentaries, animation, and features, among them a number of U.S. and North American premieres.
Embracing a broad and fluid definition of Buddhism and reflecting its cultural and ethnic diversity worldwide, the films chosen for IBFF's inaugural run represent ten different nations, and many will be seen outside their home countries for the first time. Confirmed highlights include the U.S. premieres of "Travellers And Magicians" (Bhutan), a feature film by Buddhist lama and director Khyentse Norbu ("The Cup" 1999), and Werner Herzog's documentary "Wheel Of Time" (Germany), featuring interviews with the Dalai Lama. Also slated is the North American premiere of "Home Street Home" (The Netherlands), documenting the Los Angeles-trained Buddhist activist Bernie Glassman, and a special screening of Adrian Lyne's "Jacob's Ladder" (USA) -- a drama based on the "Tibetan Book Of The Dead" -- presented by its screenwriter Bruce Joel Rubin ("Ghost").
The pioneering festival is produced by the Berkeley, CA-based Buddhist Film Society, Inc. (BFS), a non-profit organization founded by scholars, authors, activists and filmmakers. BFS's mission is threefold: to use cinema to foster communication about Buddhist ideas to the widest possible audience; to provide a comprehensive educational resource; and to facilitate quality independent filmmaking. The diverse BFS Advisory Council includes Maxine Hong Kingston, Richard Gere, Peter Coyote, Philip Glass, Lisa Lu, Pico Iyer, Kyle Secor, Robert Thurman, Huston Smith and Alice Walker, among others.
The IBFF was initially conceived a decade ago, explains Festival executive director Gaetano Kazuo Maida, a filmmaker himself, and a founding director of the national Buddhist journal "Tricycle" (about to publish its 50th edition). "When we started 'Tricycle' in 1990," remembers Maida, "it was in our original plan to sponsor a Buddhist film festival. At that time, we concluded there wasn't enough high quality work to warrant the effort -- this was before such films as 'Kundun,' 'Little Buddha' and 'Seven Years In Tibet.' After I finished making 'Peace Is Every Step' (a Ben Kingsley-narrated documentary about Vietnamese Zen activist Thich Nhat Hanh, to be presented at IBFF), some of us revisited the idea, looked at the map of the Buddhist world and realized the situation had changed. BFS was established to launch the IBFF as the heart of a resource for new audiences, educators, and filmmakers around the world."
IBFF's debut comes at a significant historical point for Buddhism, and at a time when it is stronger than ever in the U.S. "For the first time in its 2,500 year history," says BFS Advisory Council member Richard Gere, "all forms of Buddhism are being taught in the same country at the same time. Now, the relatively new language of cinema is able to communicate the variety of Buddhist ideas to an ever more receptive public." The Festival is also timely in that all people, especially in the U.S. at this moment in history, have a heightened post-9/11 awareness that the world's strife and conflicts aren't so far from home after all. "Perhaps," says Maida, "when there seems to be endless war, the Festival will provide an accessible door to a tradition rooted in wisdom and compassion, with hope and inspiration for living in peace in this complicated world."
In connection with the IBFF at LACMA, the exhibition "Reflecting Buddha: Images by Contemporary Photographers" is at the Pasadena Museum of California Art (PMCA) from November 14-23, with an opening reception scheduled for 6-8PM on the 14th. Curated by noted photographer and Photo Alliance founder Linda Connor, the show features the work of over a dozen international artists including Kenro Izu, Michael Kenna, Lynn Davis, Don Farber, Lena Herzog, Daido Loori, Steve McCurry, and Richard Gere. Several participating photographers will attend and sign their books, and proceeds from all sales will benefit IBFF. LACMA's current Buddhist art exhibition, "Circle Of Bliss" (closing January '04) features the installation of a full-scale sand mandala by Tibetan monks in the Museum's Great Hall.
The IBFF will travel to New York City, San Francisco, Amsterdam, and Taipei.