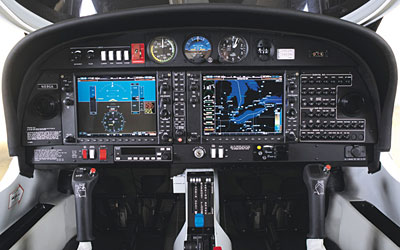 Garmin has received a Supplemental Type Certificate (STC) from the Federal Aviation Administration (FAA) for the DA40 Diamond Star. The STC authorizes Diamond Aircraft Company to begin delivering DA40s equipped with Garmin's revolutionary G1000 integrated avionics system -- the DA40's premium avionics option.
"This STC marks another significant milestone in our partnership with Diamond Aircraft," said Gary Kelley, Garmin's director of marketing. "The G1000 enhances an innovative airframe that has an unmatched track record of safety, offering advanced situational awareness to the pilot and making the DA40 the first composite, single-engine piston aircraft to feature a fully integrated, all-glass cockpit."
The G1000 system integrates all primary flight, navigation, communication, terrain, traffic, weather, and Engine Instrumentation and Crew Alerting System (EICAS) data on two 10.4-inch, high-definition LCDs in the DA40 Diamond Star. These active-matrix displays feature XGA resolution (1,024x768-pixel count) and are capable of presenting data in brilliant, sunlight-readable color at wide viewing angles.
The primary flight display (PFD) replaces many of the traditional cockpit instruments and digitally integrates flight information on a single, large-format display for easier interpretation by the pilot. The PFD interfaces with Garmin's new Attitude and Heading Reference System (AHRS), which features rapid alignment while moving, including in-flight dynamic restarts.
In contrast to currently available glass cockpits, the fully integrated G1000 system dispenses with conventional panel mounted avionics equipment and offers additional features previously unavailable in propeller driven airplanes. The system includes dual PFD/MFD sunlight readable 10-inch display panels, a centrally mounted audio controller and a remote mounted avionics compartment. The flexible equipment architecture allowed Diamond's engineers to completely redesign the instrument panel to provide improved viewing angles, accessibility, cockpit space, ventilation and aesthetics. The all new instrument panel consists of several flat planes, each angled to offer the best viewing angles and operating ergonomics. The entire panel is finished with integrally lit, laser etched polycarbonate overlays, normally found only on turbine aircraft.
"Garmin's all-glass cockpit offers an increased level of situational awareness, further enhancing the many safety advantages of the Diamond Star," said John Gauch, Diamond's vice president of sales and marketing for North America. "The G1000 avionics system is revolutionizing the way aircraft are being designed and we are proud to be the first to offer this exciting equipment in an aircraft positioned to serve both the recreational and training markets."
The multifunction display (MFD) puts all aircraft-systems monitoring and flight-planning functions at the pilot's fingertips. The MFD paints a composite view of the aircraft's environment, providing the pilot with all necessary information to make safe decisions during every phase of flight. Engine performance and situational data such as location, terrain, traffic, weather and airport information are all digitally depicted and can be quickly interpreted at a glance on the large-format display.
The integrated design and reversionary capabilities of the G1000 allow all flight-critical data to transfer seamlessly to a single display for added safety and peace of mind during flight.
"We are absolutely thrilled to be able to start delivery of the G1000-equipped DA40," said Peter Maurer of Diamond Aircraft. "We are particularly grateful to our customers for their patience over the past several months -- the wait has been worth it. Garmin has been a great partner in the project and we are pleased to offer cockpit commonality for our DA40, DA40FP and DA42."
In May 2004, Diamond also received Type Certificate (TC) approval from the European Aviation Safety Agency (EASA) for the Diamond DA42 Twin Star, which represented the world's first aircraft-level certification of the G1000 system.
Garmin designs and manufactures navigation, communication, and information devices -- most of which are enabled by GPS technology.