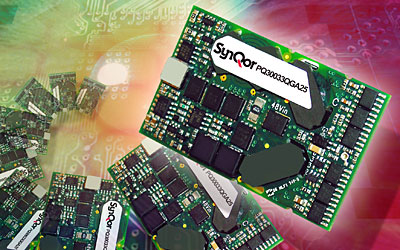 SynQor's PQ30 QGA series dc-dc converter was designed to help designers meet the challenging power requirements demanded by UMTS and CDMA base stations and wireless IP routers. By optimizing the converter design to meet the ETSI-required input voltage range of 60V maximum for 48V systems, while also being able to operate as low as 18V for 24V systems, the quarter brick unit can deliver 3.3V at 25A even in the most demanding environmental conditions.
The exceptional performance of the PQ30 QGA means that no de-rating is necessary up to 70degC ambient temperature with just 200LFM (1.0m/s) of forced air-cooling. At 85degC the converter with the same level of forced air-cooling can deliver around 23A. This dramatic increase in useable power over previous-generation products means, for example, that in one application, system designers have been able to maximize the Channel Element Capacities for UMTS and CDMA applications with only one single Quarter Brick converter, resulting in significant space, cost, power and thermal benefits for their end customers.
PQ30 QGA quarter bricks are capable of withstanding transients on the input to 80V for 100ms, and have a basic isolation level from input to output of 2000Vdc. Control and protection features include remote sense, voltage trim, input under-voltage lockout, output OVP, current limit, short circuit, and thermal shutdown. Operating temperature range is 40 to +100degC.
Sample and production quantities are available immediately with a stock to 8-week lead-time. The modules are priced at $58.00 in OEM quantities.
SynQor produces high efficiency dc/dc converters for distributed power architectures.