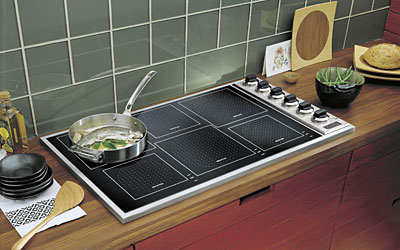 Viking makes electric cooking more efficient and faster with the introduction of Professional induction cooktops. Induction technology is the latest innovation in the field of cooking by Viking as it expands its leadership presence in the culinary arena.
Induction elements generate a high frequency alternating current magnetic field. This magnetic field reacts with the ferrous metal in the cookware, resulting in an instantaneous transfer of heat to the cooking vessel and its contents. This instant response and resulting cooking performance is much like that of gas burners preferred by professional chefs. Because the heat energy is transferred directly to the cooking vessel, the cooktop surface remains cool to the touch, thus providing superior cooking performance while being highly energy efficient.
"We have been researching the technology behind induction cooking for years," said Liston Durden of Viking. "We are now able to offer consumers the most technologically advanced cooking systems with Viking induction cooktops."
The new induction cooktops offer the premium cooking performance that has long been associated with the Viking brand. Its energy efficiency of over 90% reduces the amount of heat generated because power is only drawn when cookware is on the element, making the kitchen a safer, more comfortable, and more enjoyable working environment.
The new all-induction cooktops are available in 30" and 36" widths. Consumers may also choose models that combine the MagneQuick induction element and the QuickCook radiant glass ceramic cooking surfaces on 30" and 36" wide cooktops.
The Viking cookware line, introduced three years ago, was specifically designed to include a layer of ferrous metal that is suitable for use on induction cooking surfaces as well as all other electric cooking elements and gas burners. All Viking cookware is therefore completely compatible with the new Viking induction cooktops.
Viking develops commercial-type appliances for the home.