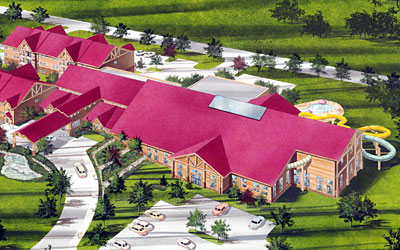 Nestled among the natural beauty of northern Wisconsin, you will find the Lodge at Cedar Creek, a new $35 million indoor water park resort opening in June 2004. The resort -- themed after the beautiful Wisconsin Northwoods and the Wausau area's historic lumber industry -- features 140 family-sized suites and a 50,000 square foot indoor water park, the largest of its kind in northern Wisconsin.
The Lodge at Cedar Creek offers guests all the conveniences and amenities expected at an all-suite resort, wrapped in the pristine, natural setting of Wisconsin's Northwoods. The resort appeals to travelers who want a relaxing escape to the outdoors without sacrificing the fun and excitement of a water park vacation.
"We truly offer the best of both worlds," said Amanda Sampey, marketing director for the Lodge at Cedar Creek. "If you're an outdoor enthusiast, we have skiing, snowmobiling, hiking, fishing, kayaking, biking, golf and every other form of outdoor recreation within minutes. For those who want shopping, restaurants, arts and entertainment, these recreational options can be found in the immediate area -- we offer something for everyone."
Located just off of Exit 185, the Lodge at Cedar Creek is uniquely situated close to several natural and man-made attractions in the Marathon County area, including: Rib Mountain State Park, Granite Peak Ski Area, Cedar Creek Mall and the Leigh Yawkey Woodson Art Museum. The resort is adjacent to the Cedar Creek Mall, as well as a Marcus Cineplex movie theatre and a variety of restaurants. The resort is within driving distance from major metropolitan areas, such as: Milwaukee, Madison, Green Bay, Chicago and Minneapolis/St. Paul.
In addition to its prime location, the Lodge at Cedar Creek offers guests a unique getaway unlike any other water park resort in the country. The resort's historically-themed, log-mill design pays tribute to the region's lumber industry. As guests arrive in the lobby, they travel back in time to a rustic logging town, complete with cobblestone streets, lantern light posts and a working water wheel. This distinctive log-mill theme is carried throughout the resort, including the Saw Mill Grill restaurant and Buzz Saw bar, as well as the family-sized guest suites and expansive water park.
The indoor water park provides numerous activities for adults and children of all ages, including: "Powder Keg Puddle," a kiddie water play area with slides and spraying water toys; "Rapid Rock River," a wave lazy river, which gently flows around an island with wildlife scenes; "Log Jam Pass," a popular water walk activity for all ages; "Little Bull Falls," a sports activity pool and "Sasquatch," a monster-sized tube "bowl" ride, which splashes down into "Beaver Bay," a tube and plunge waterslide.
The water park's signature attraction is "The Cedar Creek Tree House," a water-dumping tree house and play feature. Large enough to accommodate more than 200 kids, The Cedar Creek Tree House incorporates a variety of activities, including: water geysers, two body slides, an 800 gallon tipping water bucket, rope and net crawls and numerous water spraying activities.
The water park also features a pair of giant slides called the "Timber Twisters." The slides boast two enclosed tubes, which go outside the building then return to the "Loggers Landing" splashdown pool. This area of the water park has forest "critters" who speak to guests as they journey up to Timber Twisters and Sasquatch. All of the fun is experienced in an environment resembling Wisconsin's Northwoods and the lumber towns of years past.
The indoor water park is open to guests staying overnight at the resort as well as people visiting for the day. Day passes will be sold to families as well as large groups, making the Lodge at Cedar Creek an ideal day-trip destination.
In addition to the water park, the Lodge at Cedar Creek is able to accommodate weddings, family reunions, meetings and corporate events with its 1,600 square feet of meeting facilities. The resort will also feature a heated, outdoor pavilion with adjacent gazebo and beer garden, ideal for one- of-a-kind events.