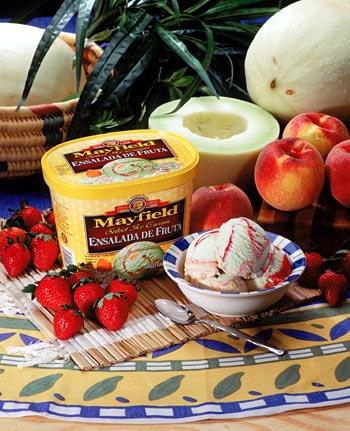 Mayfield's new Ensalada de Fruta is a unique combination of honeydew-flavored ice cream with a strawberry swirl and bits of peaches.
Ice Cream! : The Whole Scoop - Ice Cream! The Whole Scoop, is an in-depth definitive book about the great American passion. Designed to take the mystery out of making ice cream but not the magic, this delightful book is not just a cookbook but a "how-to" guide for ice cream makers. Ice cream lovers will find hundreds of recipes from creamy-rich gourmet ice cream to healthful yogurt to crisp tart sorbets.
Part One, "Freeze It," offers recipes for every sort of frozen dessert, including not just dairy ice creams, sherbets and frozen yogurts, but also non-dairy delights such as French sorbets, Italian sorbetti, and rice-based and soy-based ice creams.
Part Two,"Perfect It," offers an in-depth explanation of the variables influencing ice cream quality including the ingredients used, the way they're mixed, and how they're frozen and stored. Detailed instructions are offered on how to develop, evaluate, and perfect new flavors.
Part Three, "Embellish It," offers tantalizing suggestions for all occasions including combining eye-appealing colors with taste-tingling flavors to create swirled marbles, layered rainbows or molded bombes. Ice Cream concludes with three indispensable appendices: an alphabetical reference of two hundred formulas for creating new flavors, a glossary of ice cream lovers' jargon; and sources for specialized equipment and hard-to-find supplies. Ice Cream! is truly The Whole Scoop.
The Ultimate Ice Cream Book : Over 500 Ice Creams, Sorbets, Granitas, Drinks, and More - The Ultimate Ice Cream Book contains enough recipes to fill your summer days with delicious frozen desserts -- but after acquainting yourself with this book's hundreds of tempting concoctions, you'll want to use it every day of the year. With over 500 recipes, author Bruce Weinstein has put together the most comprehensive cookbook of its kind, covering just about every conceivable flavor of ice cream, sorbet, and granita; dozens of different recipes for shakes, malts, and other cold drinks; how to make your own ice cream cones; and toppings galore.
If you ever worried that you might not get full use out of your ice-cream maker, cast your doubts aside. Ice cream recipes feature such unusual flavors as lavender, chestnut, rhubarb, and Earl Grey tea. Even Weinstein's vanilla ice cream is anything but plain, with variations like Vanilla Crunch, Vanilla Rose, and Vanilla Cracker Jack. There is also a plethora of light, refreshing recipes for sorbets and granitas, with flavors like Apple Chardonnay, Coconut, and Kiwi. Top everything off with the author's recipes forhomemade sauces. Whether it's a special event or a midnight snack, The Ultimate Ice Cream Book has what you need to make any occasion a little sweeter.